Become a Premium Sponsor at Gecko Time and have your business seen by thousands of gecko lovers from around the world. Gecko Time is a leading source of gecko information, breeder interviews, species spotlights, and more. Our goal is to bring rich, interesting content to gecko lovers.
Gecko Time is viewed by hundreds of gecko keepers globally each day. As a result, you have an excellent opportunity to market to a very targeted audience of reptile enthusiasts who will be highly interested in your ads.
About our Community:
Gecko Time was started in March 2009
Average of 150 to 250 unique visitors with 5,700+ unique visitors in the last 30 days (from April 18th to May 18th)
The majority of our visitors are from the United States with Canada, the United Kingdom, and Germany following
Active Facebook page of over 700 members
Around 175 RSS & Email subscribers and growing
Where can I advertise on Gecko Time, and how much is it?
We currently offer two add locations with different pricing.
Banner Ad: 234×60 ad zone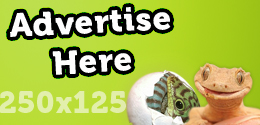 This brand new ad zone is the best placement for reptile related companies. This banner is on every page we serve. Only $30 per month. This spot is limited to one sponsor per month.
Banner Ad: 468×60 ad zone


A 468×60 banner ad is shown on the home page underneath the latest post. This offers great exposure to any person interested in using more of a traditionally sized banner.
This location is $15 per month and is limited to 5 sponsors per month to maximize exposure for each advertiser.
Squard Ad: 125×125 ad zone


The 125×125 ad blocks appear on every page of our website in the right sidebar. This innovative ad size is new to the reptile world and could help your business bring in new traffic with ease! If you need someone to design a 125×125 pixel banner feel free to contact us. We ask for these ads not to be animated.
This location is $18 per month. There is a limit of 8 ads per month to be sold. All ads will be displayed at all times.
Sidebar Ad: 234×60 zone

Displayed: On every page in the sidebar
Size: 234×60 pixels
Slots: 2 slots currently available
Price: $10 per month