In a time when stories of fraud, betrayal and bad-mouthing abound, this article is a celebration of  the joy of making positive contacts in the gecko world. 
The Background
It all started with a classifieds ad on geckoforums.net.  I was in the market for another leopard gecko breeder female, but not actively searching, when I saw an ad for a female Afghan eclipse.  Something about the gecko caught my eye.  Not exactly what I'd thought I wanted, but an attractive color and pattern with the "eclipse" trait an added bonus.  Having to pay for shipping, especially in the winter, would have been a deal breaker, but then I noticed that the seller lived in New Jersey.  Not only that, it was Chris Stager.  Chris and I had met up the summer before –in the parking lot of a mall in Elizabeth New Jersey.  I had something he wanted, a Total Eclipse (super snow eclipse) leopard gecko, and he had something I wanted –a sale.  Overcoming weekend traffic and his work schedule, we were able to schedule a "meet" at the mall to exchange gecko for money.
Boston to New Jersey is not an effortless trip, especially in January, but since I was planning to vend at the Reptile Expo in White Plains, NY, I contacted Chris to see if we could meet up.  He was more than happy to make a sale and provided me with enough information to know that this gecko would be a welcome addition to my breeding groups.  Then he made an unexpected request: could he sell some geckos at my table at White Plains.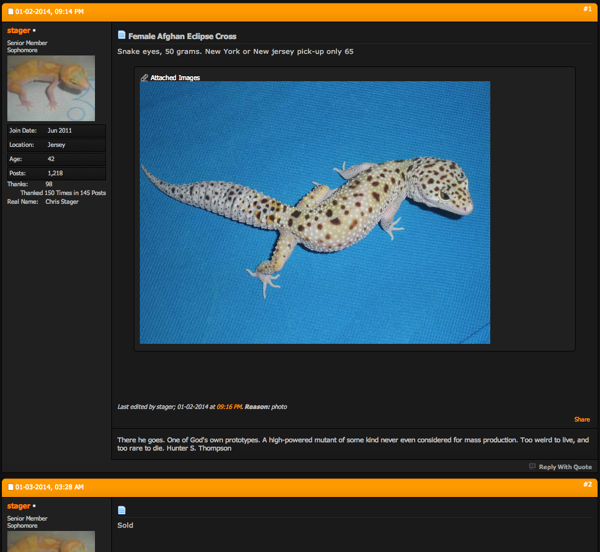 How it Worked Out
For those who aren't familiar with the "scene" at the White Plains Reptile Expo (check out Interview with Bruce Lowder, promoter of the White Plains show), it's packed with vendors, and tables are  notoriously hard to come by, though a bit easier since the Annex room opened.   I have vended there a few times before (it's a 3-4 hour drive for me) thanks to other vendors'  generosity and have scrunched into the last 18" of someone's expo table in order to sell my geckos.  This was the first time I was able to secure a table by myself.  Vending alone has its advantages but it also means that there's no one to help watch the geckos and no back-up for bathroom breaks or for visiting other parts of the show.  This was a great opportunity to have some company, make back a part of my table fee and help out a fellow gecko breeder. 
Chris initially offered to pay half the table fee and also give me a hefty percentage of his gecko sales, but in the spirit of "paying it forward" we agreed that his only "fee" would be the gecko in the classified ad that had begun the whole thing.  We had a wonderful time together and were able to spell each other for the necessary "use the restroom" and "buy the feeders" breaks.  One would think that having a competitor, i.e. someone selling the same product, sharing the table could be a problem.  I find that if the vendor provides information in an open fashion and then trusts the customer to make his or her choice based on preference, everyone comes out ahead.  Chris sold geckos, I sold geckos and as it happened by the end of the show we had each sold about the same number and made about the same amount of money.
Now, several weeks and several snow storms later, I wait patiently for my new gecko to finish out her quarantine time (wouldn't you know she's the only gecko of the group who's ovulating), remembering the White Plains Expo experience with pleasure.  Any time, Chris.
Note from Chris:
I don't know what I could add to the article except to follow you in celebrating the positive aspects of meeting others in the breeding community. First off meeting others with the same passions is a true pleasure. But two of the most positive memorable things to me were:
 1. Seeing you more concerned with educating people at your table with the care of these animals then making a sale, really blew me away. It's hard to find such genuine people this days.  You are definitely someone to admire in this hobby. [ed. note: thanks, Chris]
 2. Seeing two well known breeders (Mat B. and Pat K.) scanning every table in the show before it even started, not to  eye up the competition but just to admire or even buy a beautiful gecko.