For reptile breeders in northeastern United States, the Reptile Expos in White Plains, NY have Been THE show to attend and THE place to vend.  These shows, with more recent additions of  smaller shows in Manchester, New Hampshire and Melville (Long Island) New York  have been produced for the past 14 years by Bruce Lowder through his company Aminal Encounters.   Animal Encounters, LLC is the corporate name that encompasses the Reptile Expos that he runs in NY and New England, as well as the wildlife education programs that he presents at schools and camps in the NY area (100+ per year).
Fresh from a very successful appearance at White Plains, I decided to interview Bruce to get the story behind the man and the show.  As you will see, Bruce is extremely dedicated to reptiles, education and the success of the vendors at his show.
Could you briefly describe your own experience with reptiles?
I have been working with reptiles for more than 40 years!  I started off keeping a variety of herps as a child, and as a teenager volunteered and worked at a local Nature Center and the Trevor Teaching Zoo in Millbrook, NY.  After graduating college, I spent several years as a Peace Corp Volunteer working on aquaculture projects in Ecuador.   I then worked for the US Fish and Wildlife Service, and then spent 10 years as Collections Curator at the Greenburgh Nature Center in Scarsdale, NY.   My wife and I have bred Corn Snakes and Bairds Rat Snakes for more than 15 years, and my daughter Abby is now breeding Leopard Geckos.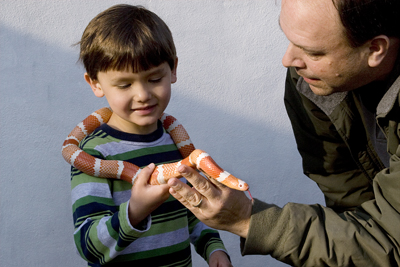 How did you get started organizing and promoting reptile expos?
The first reptile expo I ran back in the early 90's was a small 20-table event as a fund-raiser for the nature center.  We expected maybe 100 people if we were lucky, and more than 900 showed up!  During the 90's the expos kept growing, forcing several moves into larger facilities.  Our NY shows have been at the Westchester County Center (in White Plains, NY) for 14 years now, first in the smaller Lower Level, and now on the larger Main Floor and Stage area, with the recently added Annex room.  Our New England shows have always been at the Radisson in Manchester, first over on the Armory side, and now for the past couple of years in the larger Expo Center.
 What are some things that go into putting on a reptile expo that people may not be aware of?
There are certainly many different aspects of putting together shows, from recruiting vendors, generating lots of advertising for attendees, arranging proper insurance/permits, etc.  Trying to make all of the vendors happy with their locations is always interesting- some vendors want to be next to their friends, some vendors don't want to be in the same room with certain other vendors, vendors don't want to be next to someone else selling the same species, etc.  Some vendors want to be the only ones selling a specific species or type of merchandise, so that they have less competition, and can raise prices.  While I can appreciate the short-term interest in making more money, I strongly believe that this is not in the best long-term interest of the expo.  Two of the main reasons that people come to expos are to see a large selection of reptiles and related merchandise, and to find reasonable pricing.  Without those two draws, attendance will wither away long-term.
The venues where you put on the reptile expos have been adding dates over the years.  One of them (White Plains, NY) is now having a show 5-6 times a year.  How do you determine whether to add another show date to a particular venue?  What concerns, if any, do you have about putting on more expos than the market can bear?
White Plains had been at 5 shows a year for at least 12 years before we added the new February show last year.  That new date actually turned out to be the busiest one of 2013!  Shows in the warmer months do tend to have slightly less attendance, and thus be more spread apart date-wise.  The January to late-April gap was the longest NY show gap on our schedule, which was why we decided to try adding the February date.  While this additional date worked well, we do not have current plans to add more dates at this time.  A degree of spacing is required between shows in order to generate excitement for the next one.  Also, there is a finite limit on how many "reptile dollars" there are available to be spent by folks who attend the shows.  If that "pie" of reptile funds gets divided into too may shows, vendors end up working many times harder for much smaller returns at each show.  This can cause vendors to decide that it is no longer worth coming to the shows, ultimately hurting the expos, and resulting in fewer animals for attendees to see when they attend.  
What thoughts do you have about the representation of snakes vs. lizards at the reptile expos?
Historically, snakes were always the most popular animals at the show, though in recent years we have been seeing a lot more lizard breeders, particularly of geckos.  There used to be just as many colubrid breeders as ball python breeders, but it seems that the explosion of Ball Python morphs has really caught the fancy of many snake breeders.
Is there anything else you would like us to know about?
I wanted to mention two things regarding vending at expos: security and presentation.
Unfortunately, there will always be a thief or two at every show.  We do have security and police officers at our shows, but no matter how much security is in place it only takes a moment for something to be swiped off of a table.  The bottom line is that vendors do have to take responsibility for securing their animals and merchandise!  At least 80% of the time, it is the vendors that have loose deli cups full of animals all over their tables that get stolen from.  Thieves often work in groups, having one person distract the vendor with questions, while an accomplice quickly slides a cup with a nice animal in it off of the table.  We strongly urge vendors to use racks and displays to cut down on theft!  Some vendors even use fine netting that is draped over their cups that can be only accessed from behind the table.
 If something is stolen, let us know.  While our options are somewhat limited if a thief is not caught in the act, we will make announcements to vendors to keep an extra close eye on their animals.  Also, our security and other vendors have sometimes caught shoplifters, and these thieves are commonly carrying multiple animals that have obviously been stolen from other tables.  We need to know what is missing in order to match in back to its proper owner if recovered.  We have had expensive animals recovered at past shows that were obviously stolen, but which we were not able to connect back to the vendor!
 Finally, think about presentation!  Vendors are competing for sales with dozens of other vendors, some of whom will probably be selling animals similar to theirs.  At a minimum, invest in a colorful tablecloth and an inexpensive swing-arm lamp or two to show off your animals and help keep them at optimum temperatures.  Have business cards and care sheets readily available!  Look shoppers in the eye, and engage them in conversation!  The grumpy vendors, ones who sit behind their tables piled with deli cups with no lighting or displays, and who do not even look up at customers stopping at their tables — they are the ones who always end up complaining at the end of the show about not selling anything!   Marketing your animals and yourself makes a huge difference, both in how many animals you sell, as well as in the price you can charge.