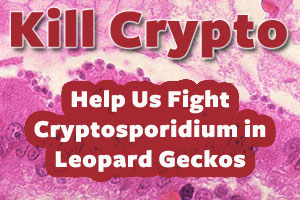 Help Us Fight Cryptosporidium in Leopard Geckos
A study is being hosted at The Lehigh Valley Zoo on the effects of a new antiprotozoal drug on Cryptosporidium in Leopard Geckos. "Crypto" has caused massive fear in the gecko community for as long as I have been part of it. This parasite can sneak into your colonies through new additions and take out your whole collection quickly without proper quarantine and a watchful eye.  Not only is crypto a risk to your animals but anapsid.org also describes how it is a health risk to keepers.
[ad#sponsor]
About the Kill Crypto Initiative
Kill Crypto is an initiative started by Pat Kline of Luxurious Leopards. We've interviewed Pat on Gecko Time; you can read that interview here.
Kill Crypto features an excellent article on their homepage by Marcia McGuiness of Golden Gate Geckos. The article, titled Cryptosporidiosis in Lizards, is a must-read for any gecko keeper.
Support Kill Crypto and their Auction
Starting today Kill Crypto is hosting an auction to raise funds for research hosted by The Lehigh Valley Zoo. If you would like to support the cause and have a chance to win an awesome gecko or gift cards then enter today. Gecko Time has donated $50 in advertising to the auction.
Learn more and enter the auction on KillCrypto.com.
What to Expect
Don't expect any immediate results from this research. It is likely, says KillCrpyto.com, that results will take 1-2 years before they are complete and ready to publish. We wish them speed and luck as they work on a cure the reptile community depends on.
To stay updated subscribe to our RSS feed or enter your email and click subscribe on the right of this page.
[ad#250]
MatthewVisit Website
I've been keeping odd pets since I was 14, keeping and breeding a variety of species from viper geckos to poison dart frogs. Now living in Georgia, working in online advertising.
For the past several years I've been breeding superworms for all my geckos. It's a fairly simple process and with some time and patience you can raise your own feeders.

We had the opportunity to interview Kevin of New England Reptile Distributors, asking him about the amazing Tokay Gecko morphs they are working with. Here is what Kevin had to say.

Breeding leopard geckos is relatively easy and rewarding. There are so many exciting images on the internet of gorgeous and unique animals that many of us get bitten by the breeding bug.