As a disabled veteran of OIF/OEF (Operation Iraqi Freedom/Operation Enduring Freedom) myself, assistance and support provided by organizations such as the Wounded Warriors Project (http://www.woundedwarriorproject.org) have been very important to me and to fellow veterans. I have wanted to combine the passion I have for serving our county with my passion for reptiles. This is a feeling shared by many throughout the reptile community.  What began as the auctioning of a single animal, in which all proceeds would be donated to the Wounded Warriors Project, has turned into a multiple breeder and species auction.  Reptiles for the Wounded is a registered event through the Wounded Warriors Project and is a nonprofit auction in which 100% of the proceeds will be donated to the Wounded Warriors Project. The auction will be held on our Facebook page (Enigmatic Reptiles).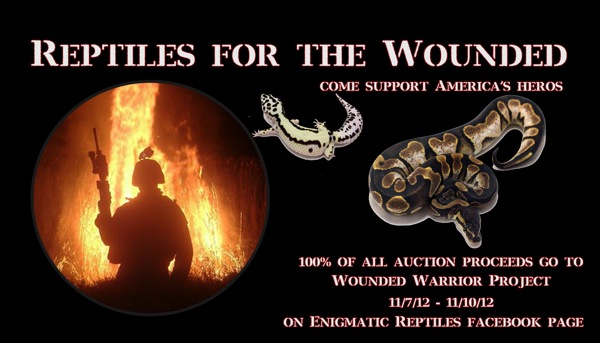 Auction Details
The auction will be held on our Facebook page (Enigmatic Reptiles).
♥  The auction begins Wednesday November 7, 2012 12pm (PST) and will end on Saturday November 10, 2012 at 6pm (PST)
♥ The animals for auction will all be listed in an album labeled "Reptiles for the Wounded"
♥ All auctions will be Overtime auctions
♥ All bids are + shipping from the donators' locations
♥ Winners will receive an official Wounded Warriors Project bracelet in addition to their auction item
♥ A full list of auction rules and specific details will be listed when auction items are posted
Feel free to search for our event on the Wounded Warriors Project web site (http://www.proudsupporterwwp.org/misc/proud-supporter-events.aspx).  Search zip code 91752 to find Reptiles for the Wounded. 
*Animal donation will have to be approved and come with health, genetic, sex guarantees.
**This is a non-bias auction and all donators and bidders are welcome!
About the Wounded Warriors Project
The Wounded Warriors Project (WWP) is an organization built around the needs of America's armed forces. The organization's members understand that every individual has his or her own set of needs and a manner in which they can best be helped. There are four areas in which WWP reaches out to veterans: Mind, Body, Economic Empowerment, and Engagement.  The quotes that follow are taken from information on the Wounded Warriors site (http://www.woundedwarriorproject.org/programs.aspx)
Mind
"We envision a generation of Wounded Warriors well-adjusted in mind, receiving support to overcome the challenges of readjustment. Through interactive programs, outdoor rehabilitative retreats, peer support, and professional services, warriors are given the tools to maintain healthy, meaningful relationships with family and friends, and pursue life goals without the barriers or stigmas associated with mental health issues."
Body
"We envision a generation of Wounded Warriors well-adjusted in body, receiving the care they need to maximize rehabilitation and live active and healthy lives. Through adaptive sports, health, nutrition, and recreational activities, WWP helps warriors achieve independence and pursue an excellent quality of life."
Economic Empowerment
"We envision a generation of Wounded Warriors who are economically empowered. They are not unemployed or underemployed, and have opportunities to pursue a meaningful career or own their own business. WWP offers higher education programs, information technology training, and employment assistance services to encourage economic empowerment for warriors to provide long-term financial stability for themselves and their families."
Engagement
"To ensure injured service members stay connected with one another, WWP has both a peer mentoring and robust Alumni program. Additionally, the Policy & Government affairs program ensures injured warriors and their families have a voice in local and national advocacy and legislative issues. WWP also offers a Benefits Service program that provides you with access to government benefits and details on all of our programs and community resources."
Wounded Warriors Project hears the silent cries for help from America's wounded and has taken the initiative to reach out to them.  For many veterans, their battles do not end once they step off the battle field but are rather a daily struggle seemingly fought alone. With the help of Wounded Warriors Project, these veterans are no longer alone and have the support needed for a more complete recovery.