Reptile Maniac is a great example of an up-and-coming service provided by people who are passionate about reptiles. Backed by extensive research, it utilizes a variety of internet and social media connections to provide information, share photos and answer common questions about the reptiles they are most knowledgeable about, including an increasing variety of gecko species. Gecko Time recently interviewed Brandon Lee, the owner of Reptile Maniac.
Tell us a little about how you got into reptiles and what kind of reptiles, especially geckos, you're keeping.
I got into reptiles around the age of 12 when I went over to a friend's house who owned a leopard gecko. That was my first experience seeing a captive reptile and I immediately became obsessed. Everything from watching them eat, to handling, to learning more about them, I was completely fascinated and fully indulged in the reptile world from that point forward.
I soon discovered the existence of Repticon, a reptile expo in the United States. As soon as they came to my city, I purchased tickets and ended up buying two bearded dragons, Charlotte and Henry.
Today, I own a leopard gecko named Toothless (and before you ask—yes, he does have teeth!), a mourning gecko named Flash, and a bearded dragon named Sunshine. I love them all to death!
Here's a little collage with all of them: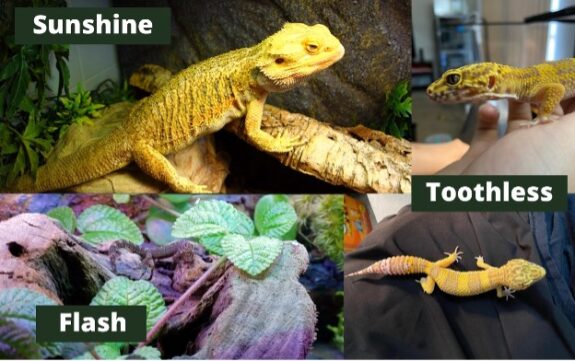 What got you interested in starting a web based business and how did you go about it?
I've always had a passion for writing and blogging. When I was young, I blogged about different video games I was playing. This was back in the early days of blogging. So, despite being a complete beginner, I was able build a decent following and had a lot of fun doing it!
I stopped blogging for a few years but picked it back up after a friend re-introduced me to it. I decided to start blogging about reptiles since they're one of my greatest passions. It's super fun being able to advance my own skills and knowledge while being able to help others in a niche I love.
What would you like readers to get out of your website?
I don't think there's one answer that encompasses all of the things I want readers to get out of my website.
To expand on that, some people come to Reptile Maniac to get a specific answer to a question they have about their reptile. On the other hand, some people visit Reptile Maniac because they're thinking about purchasing a reptile.
So, for the people that are thinking about getting a reptile, I hope they feel that much more motivated to buy one after reading over some of my articles.
For the people that are looking for an answer to a specific question, I hope they walk away feeling better equipped to care for their reptile.
Your articles are mostly about specific aspects of reptile care. How do you decide what type of article to run and is there any particular way you write them?
I try to write articles based around questions that I've had myself (as a reptile owner). I'm also very active on Reddit and follow several subreddits related to bearded dragons, leopard geckos, and more general ones that encompass all reptiles. I see a lot of questions on these subreddits and sometimes get inspired to turn certain questions into blog posts.
Whenever I think of an idea or question that I'd like to write an article about, I simply put it in my phone notes. Right now, I've probably got around 100 questions and topics saved in my notes.
I usually write 4-5 days per week. To be honest, my process is pretty inconsistent. Typically, the first thing I do is research further into a topic. This usually consists of going through reddit, reading studies, watching relevant YouTube videos, etc. If it's health related or the topic isn't found online, I know a reptile veterinarian who I can reach out to.
A lot of the topics I write about I can answer solely based on my experience. However, I always implement outside references to gather a broader range of opinions and perspectives. It's always my number one goal to provide reliable and accurate information.
What are your future plans for Reptile Maniac?
My future plans are to continue to push out high-quality content and build a greater following. I currently lack an email signup form, so this is another thing on my to-do list. This will give readers the ability to subscribe for weekly updates on content.
I also recently started a Pinterest account (@ReptileManiacs), so I'd like to place a focus on growing that. As of now, I've created around 100 pins which I'm in the process of posting.
Finally, I'd like to expand Reptile Maniac to other reptile species. Right now, the only species I discuss are bearded dragons, leopard geckos, and crested geckos. However, I'm planning to start putting out content on Tokay geckos, mourning geckos, and giant day geckos.
What advice would you give people new to geckos that want to become "reptile maniacs" themselves?
For those of you that want to become "reptile maniacs" yourselves, I would first suggest educating yourself on the husbandry of reptiles.
To do this, I recommend watching tons of YouTube videos, reading books, and following different blogs.
Some of my favorite YouTube channels include Wickens Wicked Reptiles, GoHerping, and Clint's Reptiles. All of these channels have great content on reptile info and care. I've basically watched every single one of their videos and genuinely enjoy their content as they're all super entertaining.
I also recommend joining forums such as GeckoTime.com, GeckoForums.net, and Pangea. All of these websites have great communities to connect you to likeminded people who also share a love for geckos!
If you're interested in purchasing a reptile, I recommend finding a reliable online breeder. You can also go to local reptile shows if they come to your area. Even if they don't come to your city, a lot of people will travel 8+ hours to attend a reptile show. Even if you don't purchase a reptile, they're a lot of fun to attend.
Overall, just have fun with it! Owning and learning about reptiles is an amazing and rewarding experience!
Brandon Lee is a reptile enthusiastic and shares his ideas on https://reptilemaniac.com/. He got into reptiles at an early age of 12 and have self-taught a lot since. He loves everything from watching them eat, to handling, to learning more about them.