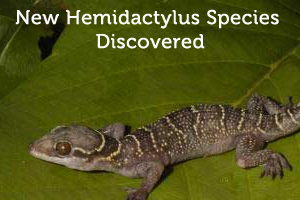 New Hemidactylus Species
It is always interesting to hear about new gecko species in the news. The latest species comes from the rain forests of Africa. This Hemidactylus was actually determined to be four different species. These geckos were isolated over time by forests thinning and separating the species. The Hemidactylus was then expected to have adapted over time and evolved into the four new species described.
"We tended to find this gecko, Hemidactylus fasciatus, throughout our travels in West Africa," said Leache, currently a post-doctoral fellow at the University of California-Davis. "Despite the fact that it is recognized as one species, using new methods we have established a high probability that it is composed of at least four species."
–UPI.com
Leaché and Fujita found sufficient genetic differences among the 50 geckos collected from 10 different forest patches to identify four distinct species. The different species were found in different forest patches, suggesting that the species divergence was driven by the isolation of gecko populations from one another after gaps developed in the rain forest.
–LiveScience.com
We expect that current importers who are selling Hemidactylus fasciatus do not know the variety of which of the four newly discovered species they hold. It is easy to find relatively inexpensive specimens on various outlets such as Kingsnake.com today.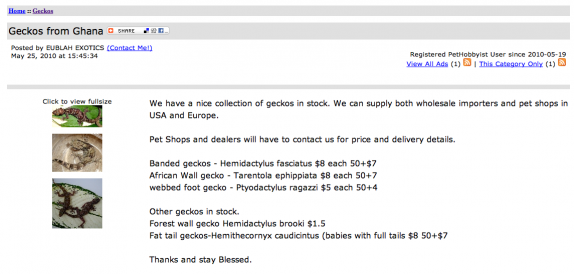 Read more
Tell us what you think
Did you like this post regarding gecko related news? Would you like to see short posts like this regularly? Tell us in this poll:
MatthewVisit Website
I've been keeping odd pets since I was 14, keeping and breeding a variety of species from viper geckos to poison dart frogs. Now living in Georgia, working in online advertising.
For the past several years I've been breeding superworms for all my geckos. It's a fairly simple process and with some time and patience you can raise your own feeders.

We had the opportunity to interview Kevin of New England Reptile Distributors, asking him about the amazing Tokay Gecko morphs they are working with. Here is what Kevin had to say.

Breeding leopard geckos is relatively easy and rewarding. There are so many exciting images on the internet of gorgeous and unique animals that many of us get bitten by the breeding bug.