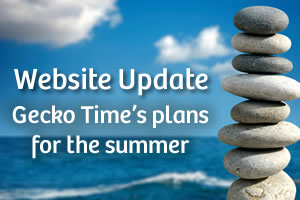 Update: Our Summer Plans
It's summer time! Even though it has been cold here in Georgia for the past few days, due to what I've been told is a Blackberry Winter, school is coming to an end and the pools are preparing to open!
What are our summer plans?
Gecko Time is sticking it out with you this summer and will continue to bring you fresh, quality content about the reptiles we all love, GECKOS! I (Matthew Kammerer), the owner and creator of this website, will be taking off to start a summer job this Monday! I will be traveling across the US working as a counselor for a mission oriented camp. I am very excited to take this opportunity to serve God and youth this summer.
That leaves Gecko Time all by itself though, right? No way! Aliza Arzt(pronounced Uh-lee-za 🙂 ), our resident editor, is taking the hat of commander in chief while I am away! She can be reached at any time through email: [email protected]. While I am away this summer, photo contests will be put on hold. Don't worry, they will return in August! 🙂
Our growth so far
I have been very pleased with the growth of Gecko Time so far! We are still a young face on the internet, only being around for just over 3 months. We have seen our twitter followers grow to over 1,500 and our RSS subscribers range from 35-40 depending on the day! We also see an average of 120-180 visitors a day. Thanks so much for the support!
On the same note, I would like to thank our newest sponsor: Ohio Geckos. Also, our veteran sponsors, for making this possible: PacHerp, Pro Geckos, and CSM Gecko! We are proud to have such awesome breeders sponsor us. They are all truly class act reptile keepers.
So keep an eye out
Our new posts will continue to go up each Monday morning and we look forward to your comments throughout the week. Be sure to subscribe to our RSS feed to the right side of the page to keep up to date easily! Have a great summer!
MatthewVisit Website
I've been keeping odd pets since I was 14, keeping and breeding a variety of species from viper geckos to poison dart frogs. Now living in Georgia, working in online advertising.
For the past several years I've been breeding superworms for all my geckos. It's a fairly simple process and with some time and patience you can raise your own feeders.

We had the opportunity to interview Kevin of New England Reptile Distributors, asking him about the amazing Tokay Gecko morphs they are working with. Here is what Kevin had to say.

Breeding leopard geckos is relatively easy and rewarding. There are so many exciting images on the internet of gorgeous and unique animals that many of us get bitten by the breeding bug.