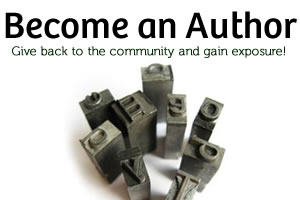 Become an Author: Write for Gecko Time
Is there something you want to say about geckos?
Would you like to be published online?
Gecko Time is looking for articles about any aspect of the gecko hobby. Since March of 2009, we have been publishing articles 1-2 times a week which are being read by gecko enthusiasts around the world. We have more than 40 ideas for articles on our to-do list and are always interested in people who would like to write them or who have other ideas for articles. Several of our more recently published articles are the result of requests from readers for articles about specific topics. There are many ways to participate in publishing on Gecko Time, from writing your own article to sending us a suggestion.
How to Write Your Own Article
Think of a gecko related topic you are interested in or curious about. We have found that the most readable articles contain an introduction followed by a "list" of several sub-topics with a few paragraphs of information. You can see an example of the format in this article and also in many others that have already been published. Make a list of what information you want your article to contain. Treat each item on the list as a paragraph title and write a few paragraphs to explain or describe it. Our articles are usually 500-1000 words though slightly longer articles are often acceptable.
[ad#sponsor]
Writing about One of Our Topics
Gecko Time can send you a list of topic ideas. We have plenty. Some examples of our "hot topic" ideas include: Finding a Vet for your Gecko, How to Take a Vacation, World of Web Footed Geckos, Safe Plants for Gecko Enclosures. Once you have chosen a topic that interests you, follow the instructions above in the section "How to Write Your Own Article"
Sharing your Ideas
We are always interested in learning which topics people are interested in reading about. Your idea could be for a specific article or for a general category. For example, someone recently suggested that Gecko Time should publish personal accounts of experiences with geckos, an idea which had not occurred to us. We are also interested in receiving your suggestions about others in the herp community who you think could write an interesting article. All you have to do is submit their name and contact information and we will get in touch with them.
Submitting Information
There are two buttons at the top of our website labeled "suggest a topic" and "write for us". Click on the appropriate button, type your idea or article into screen which will appear and we will receive your submission. Alternatively, you may email articles and ideas directly to [email protected].
What Happens Next
When we receive an article, we will edit it lightly to make sure that the grammar is correct and that there is no awkward wording. We will send you a copy of the edited article on your request. We will also email those who submit articles requesting a short bio and some pictures to accompany the article. If you have no pictures to send, we will provide them. If you submit an idea, we will contact you when we have come up with an article and let you know the publication date in advance.
We'd love to hear from you
We hope the information above has helped to spark some interesting ideas. Now that you know how to go about it, we hope to hear from you soon.
AlizaVisit Website
Aliza is a home care speech therapist living in the Boston area. She successfully bred a variety of gecko species between 2005 and 2017. She currently cares for a large number of geckos as well as a few frogs and bearded dragons. Other interests which she pursues in her copious free time include work in ceramics, practicing aikido and surfing the internet.
For the past several years I've been breeding superworms for all my geckos. It's a fairly simple process and with some time and patience you can raise your own feeders.

We had the opportunity to interview Kevin of New England Reptile Distributors, asking him about the amazing Tokay Gecko morphs they are working with. Here is what Kevin had to say.

Breeding leopard geckos is relatively easy and rewarding. There are so many exciting images on the internet of gorgeous and unique animals that many of us get bitten by the breeding bug.