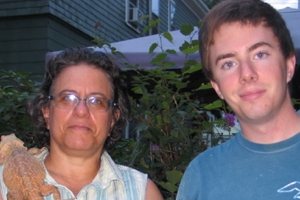 What's Up With the Gecko Time Editors?
It's generally accepted these days that collaboration is not limited by geography.  With all the tools at our disposal, from the internet to skype, people can work together easily while living half a world apart.  This is definitely true: Gecko Time has published regularly for two and a half years with seamless communication between its co-editors, one living in Massachusetts and one in Georgia.  So how could things change with Matthew Kammerer, owner of the Gecko Time site,  moving to Cambridge Massachusetts, just 5 minutes away from his co-editor, Aliza Arzt?  Answer: for the better!
[ad#sponsor]
Gecko Time continues to roll out full speed ahead (we have articles scheduled through mid- October) between the two of us, mostly via email and text messages.  But the advantages of having two avid gecko collectors and breeders minutes away from each other are already being felt.  Even before Matt moved to Cambridge in mid-August, Aliza was searching through craigslist for cages and racks for Matt's growing gecko collection.  Now that we live in adjoining towns we find we have much more to share:
Feeders
"How many crickets do you need?"
Matthew's geckos, who had been in deli cups for the entire 3-day drive up from Georgia were able to eat immediately on arrival (to the extent that they were willing and able) because there was someone at the trip's end able to provide crickets of the proper size.  We've already started making joint feeder orders from a company whose prices improve as the order increases.  By pooling our resources, we can provide a wider variety of feeders and feeder sizes, especially if we have complementary feeder needs:  Matthew's cat geckos are the beneficiaries of a recent silkworm order made by Aliza.
Care
It's difficult and time-consuming to care for a large gecko collection, and even more difficult to care for someone else's collection. We anticipate that we'll be able to spell each other if one of us needs to leave town.  Although we're not completely familiar with all of each other's species, we've got the general idea, and will learn a lot from each other's collections when we need to "help out".
Geckos
Matthew has a female crested gecko and a male gargoyle; Aliza has a male crested gecko and a female gargoyle.  Need I say more?  In addition to Rhac joint breeding projects in the works, we have some trades in mind:  Matthew has some gorgeous bold stripe leopard geckos, one of which will probably go home with Aliza in exchange for a Mack snow stripe.  Matt is interested in a pair of Aliza's Coleonyx (Southwest banded geckos) and is trying to interest her in his viper geckos, which she would love to have if he would build an addition on to her house.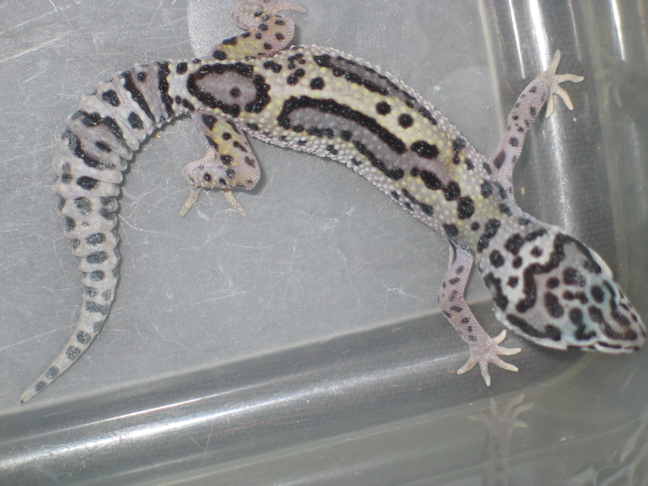 Reptile show season is also underway.  With two of us attending a show, the table is only half price and currently we have very little overlap in the geckos we're trying to sell.  We also have plans to do some personal Gecko Time promotion at one of the shows we hope to attend together this fall.
There are other local gecko keepers and breeders with whom I've had wonderful interactions and collaborations, sharing table space and talking about geckos.  However, having someone with whom I've had a longstanding professional gecko-related association become a near neighbor has already yielded benefits I never could have imagined.
AlizaVisit Website
Aliza is a home care speech therapist living in the Boston area. She successfully bred a variety of gecko species between 2005 and 2017. She currently cares for a large number of geckos as well as a few frogs and bearded dragons. Other interests which she pursues in her copious free time include work in ceramics, practicing aikido and surfing the internet.
For the past several years I've been breeding superworms for all my geckos. It's a fairly simple process and with some time and patience you can raise your own feeders.

We had the opportunity to interview Kevin of New England Reptile Distributors, asking him about the amazing Tokay Gecko morphs they are working with. Here is what Kevin had to say.

Breeding leopard geckos is relatively easy and rewarding. There are so many exciting images on the internet of gorgeous and unique animals that many of us get bitten by the breeding bug.