I have had my two crested geckos since late 2011. I purchased them locally from a small reptile store. The owner had bred them himself and had all of the juveniles housed together. He said they had hatched around May 19th.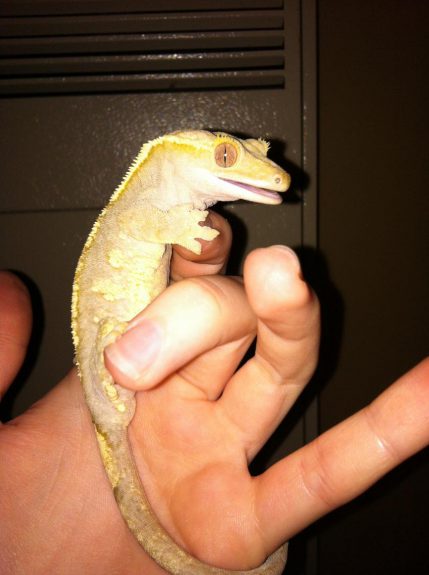 I was originally looking for just one gecko but the owner and his wife told me that it was really better to get two, and that they would be fine living together (not the best advice but I've never had issues with these two). In the end we did a deal for two and I ended up with a modest Halloween harley and a yellow flame, which were named Bacon and Eggs at the request of my SO. I ended up keeping the two together despite good advice from the Pangea forums suggesting I separate them until I was able to sex them. Lo and behold in June 2012 I found eggs in their enclosure. I panicked and quickly bought a second tank from craigslist to separate the two.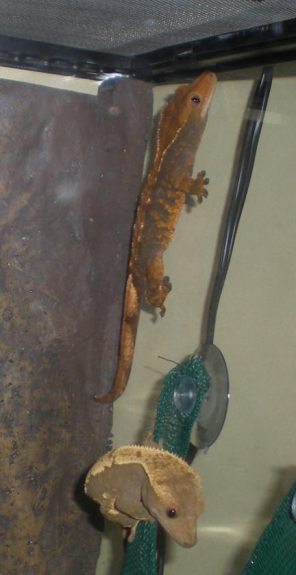 People on Pangea suggested that the eggs were probably infertile after seeing pictures of the possible male gecko –"Eggs". They also suggested that I keep the eggs around and try to incubate them to see what happens. I got a decent number of clutches from the female, Bacon, after that. There was always a 'good' egg and a 'bad' egg, but I never managed to get an egg close to hatching until March 2013. That baby ended up dying in the egg, either due to its inability to get out or some mishandling by me. It was fully formed and looked a lot like my harley, Bacon.
In Oct 2013 I found eggs in Eggs' enclosure. I was so confused. Eggs had always been the chunkier of the two and it had never had a distinct 'bulge' under its tail. It was more distinct than Bacon but definitely not what you see from clearly male geckos. After this I thought that Eggs was also a female and that I had a parthenogenic egg layer in Bacon. I successfully hatched one of her eggs in Jan 2014, and it looked just the same as the previous hatchling that had not made it, except it had a weird bump on its head. That hatchling seemed to be doing well, but about a week after it hatched I found that it had died.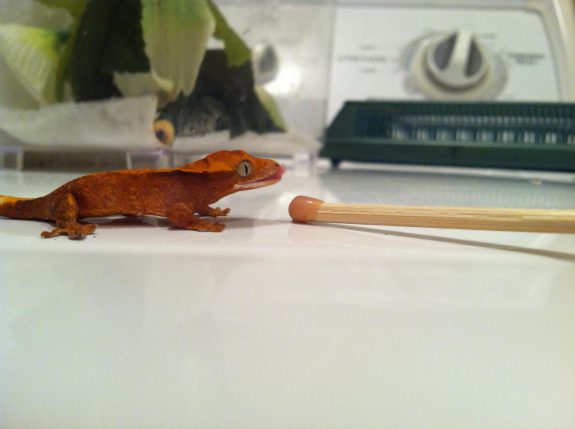 Since that time I have not actively looked for viable eggs from either gecko. Bacon and Eggs are back together again in a planted tank, and it's a bit harder to find eggs in their substrate. I have found viable ones since then, but I have not managed to hatch any more, probably due to being busy and a little inept.
In July 2016 I saw Eggs (they are both pretty reclusive so I don't always see them) looking thinner than I had ever seen before. I had the weight at 54 g at one point and it was 27 g or so in July. I took Eggs into the vet a couple of weeks later because I noticed some black inside the vent and I was worried there was an infection. At the vet the weight was still around 27 g, but the vet told me that "her" problem was more of a "his" problem and that Eggs had developed smegma/seminal plugs.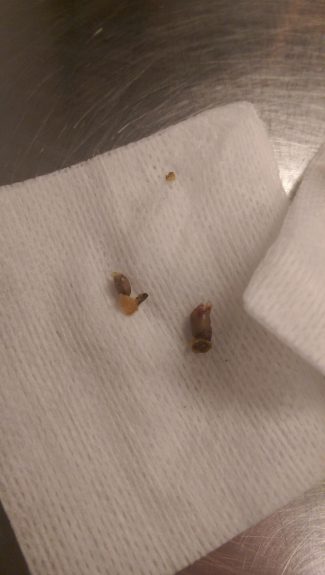 He took them out and in the process told me that he saw male organs. We ended up doing an x-ray to make sure she wasn't blocked with anything and that's when we saw she was carrying eggs. I already knew that she laid eggs but to the vet this was proof of a hermaphrodite. (To me the most interesting/concerning thing about the x-ray was the lack of defined calcium sacks—a problem that I am working on currently with calcium dusted dubia as she seems much more interested in live prey at the moment than CGD) But, a hermaphrodite! I've never seen mating behavior between Bacon and Eggs but I'll definitely be on the look-out now!