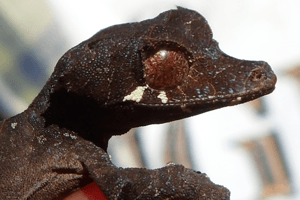 In Search of Uroplatus henkeli
Madagascar has been on my list of places to go and see the wildlife for a long while now and this year I finally got the chance! The organisation I would be helping to collect data for is called ˜Operation Wallacea", a charity that has base camps in nine countries worldwide. I would be going out to the dry forest region east of Mahajanga, to be staying in a research camp and two satellite camps just outside the village of Mariano. This would be my first time traveling to a country such as Madagascar and there would be a great deal of prep work to put in place beforehand. My main concern was the amount of time spent traveling just to get to base camp: eleven hours flying time and just less than 18 hours land travel! To see three members of the Madagascan genus of Uroplatus gecko was going to be worth every hour! After all that was my main reason for choosing Madagascar, ever since I'd seen the photo of a Uroplatus fimbriatus on the front of the Bradt˜Madagascar Wildlife" I'd been fascinated by them and their cryptic camouflage. Number one on the list was Uroplatus henkeli, the biggest member of the three in the dry forest area.
The travel went better than expected and I actually found the stop off in two hotels on the way rather enjoyable. I also got the chance to spend a day in Antananarivo, Madagascar's capital, sometimes abbreviated to "Tana". One thing you do notice in Madagascar is many place names and people's names are very long indeed! I'd kept my eyes peeled for any reptiles on the way to base camp and had been rewarded with Hemidactylus frenatus around the lights in the evening and one of the colourful day gecko species, Phelsuma dubia, taking over the daytime shift on the walls of the hotel in Mahajanga. It was great to finally be seeing some of the reptiles that had adapted to human habitation but I would have to wait a while yet before I located my first Uroplatus henkeli!
Arrival
The next day was the final leg of my journey, a rather bumpy ride along the dust tracks to the base camp near the village of Mariano. After four hours of bouncing around the inside of the 4×4, I was more than happy to get out as we arrived at the place that would be my home for the next 4 weeks. Upon exiting the vehicle I was greeted by another species of Day gecko, Phelsuma kochi, on the tree opposite. This was surely a good sign of things to come!
I spent the first week at one of the satellite camps, mainly running herpetofauna surveys through the morning, late afternoon and early evening. Daytime surveys revealed the two chameleon species found in the dry forest region, Furcifer oustaleti and Furcifer angeli as well as the plated lizard Zonosaurus laticadatus and spiny tailed lizard Oplurus cuvieri, the two skink species Tracylepis elegans and gravenhorstii, the Giant Malagasy hognose snake Leiohetrodon madagascariensis and countless Phelsuma kochi. Night-time surveys revealed other species such as one of the Madagascan ground geckos Paroedura stumpffi, the most common species of tree frog in the area Boophis doulioti, and one of the rare Stenophis snake species S. variabilis but no members of the Uroplatus genus never mind a henkeli.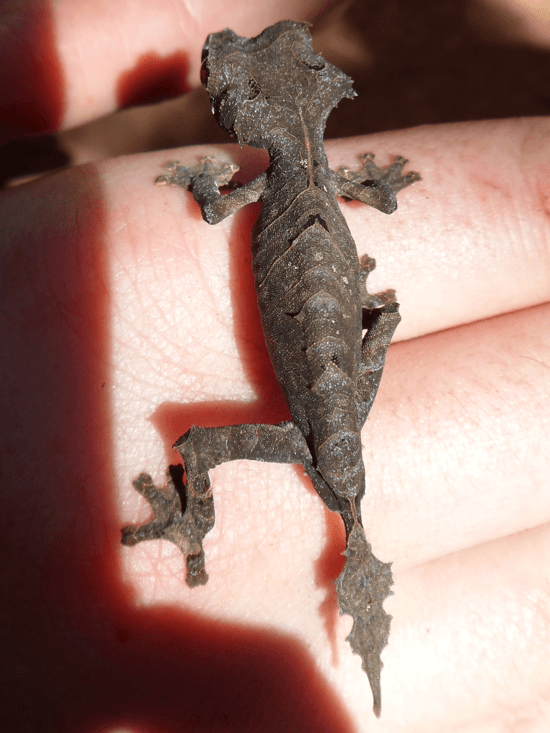 The First Uroplatus
I had spent the first week hunting high and low for the three species, but to no avail! That's ok I thought, three more weeks, I was bound to see one right? After all one had been spotted at the end of Transect One at the first satellite camp the week before. On my return to the main base camp I was lucky to come into contact with my first Leaf tail, Uroplatus ebanaui, as one of the scientists had captured one for study. Finally! Well ok it wasn't finding one in its microhabitat but it was a good start and my first chance to get up close and personal with a wild individual. Week two almost passed by with no true wild sightings of Uroplatus. While out on one of the herpetofauna route walks one evening near the end of week two, I finally had the chance to come face to face with a wild Uroplatus, U. guntheri! This species could usually be found hunting along the branches just above head height and this specimen was no exception. I was finally getting closer to finding my henkeli I hoped!
Week three saw me take a break from herpetofauna transects to spend some time on the croc boat among mangroves hunting the Nile crocodile (Crocodylus niloticus) to collect data on the species in the area but I did find time to lead my own herp walk for some of the newer volunteers who had joined us at the beginning of the week. We managed only a short walk along transect One due to illness of one of our members but even though we didn't get far, we successfully spotted two U. guntheri, I spotted the first one and a fellow volunteer spotted the second, not too far away. I must have finally been getting my eye in for the species!
Finally!
By the end of week three I had all but given up. It seemed henkeli was just too cryptic. The season ran for six weeks and only 2-3 had been seen over that time, not a particularly good year for henkeli it seemed. I wasn't too upset as I had seen plenty of interesting herps during the 3 weeks, pushing my species total up to about thirty five! Not to mention all the invertebrates, lemurs and birds I had seen and the great group of people I had met! However there was one more surprise in the fourth week that would make it all worthwhile! The first part of the fourth week was spent at the second base camp. There were no confirmed sightings of henkeli here so I kept myself busy with dodging the large population of scorpions and looking out for the other leaf tail species, ebanaui and guntheri.
My time out in Madagascar's dry forest was coming to an end as I headed back to base camp to prepare for departure at the end of the fourth week. On arrival one of the scientists took me to the science building, they had something to show me. There in an Exo terra flexarium, was one of the regions Uroplatus henkeli! This was a large individual, bigger than any of the ones I had seen in captivity before, a sort of cryptic brown mottled colour. Finally after four weeks of searching I had "found" one! I could finally leave Madagascar happy, having spotted thirty-seven reptile and amphibian species and a U. henkeli. Hopefully in a few years I'll return and finally find one in its wild habitat. At least I know what I'm looking for now!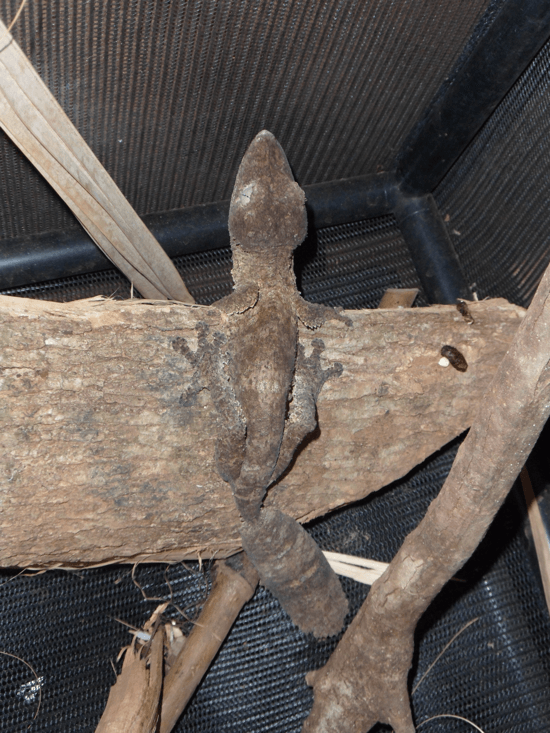 Giles NorcupVisit Website
Giles Norcup is a student who has just graduated with a Bsc in Animal biology and Conservation. He has a keen interest in Madagascar and its wildlife, especially members of the Uroplatus genus. This was his first visit to Madagascar and he is already planning the next one!
For the past several years I've been breeding superworms for all my geckos. It's a fairly simple process and with some time and patience you can raise your own feeders.

We had the opportunity to interview Kevin of New England Reptile Distributors, asking him about the amazing Tokay Gecko morphs they are working with. Here is what Kevin had to say.

Breeding leopard geckos is relatively easy and rewarding. There are so many exciting images on the internet of gorgeous and unique animals that many of us get bitten by the breeding bug.