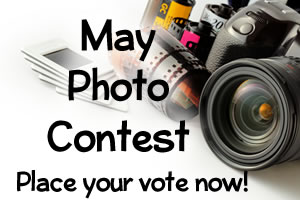 May Photo Contest: Voting Now Open
It's that time again. The May Photo Contest voting has officially started! Voting will be open until May 27th. Please vote for your favorite photo below. Remember, the winner of this photo contest will win $50 to ReptileDirect.com!
Here are this month's entries:
#1: Staring into your soul by Edgar Galvan
#2: The StareDown by Tony Garcia
#3: Gerald and Fielding (left: Gerald,female right: Fielding, male, partially sighted) by Jenni Crisp
#4: Enigma Leopard Gecko by Anne Veng
#5: Enigma Hatchling by Anthony and Melissa
#6: Crackin out the hammock for summer! by Jessie
#7: Wheeleri by Chris Smith
#8: Mack Snow, 10 months old, 44g by Adam M
#9: Boober by Julie Wurm
#10: Cinco de Mayo! by Brittney Gougeon
#11: Albino Smile by Chris Van Aken
#12: Thumb-size by Jess Butler
#13: Surprise it's Twins by Marlene Carroll
Place your vote
Please select your favorite and place your vote below. One vote per person, please. We're watching :).

Who should win the May Photo Contest?
13 (49%, 44 Votes)
12 (17%, 15 Votes)
7 (11%, 10 Votes)
10 (6%, 5 Votes)
4 (4%, 4 Votes)
2 (3%, 3 Votes)
1 (3%, 3 Votes)
11 (2%, 2 Votes)
8 (1%, 1 Votes)
6 (1%, 1 Votes)
5 (1%, 1 Votes)
9 (1%, 1 Votes)
3 (0%, 0 Votes)
Total Voters: 90

Loading ...
MatthewVisit Website
I've been keeping odd pets since I was 14, keeping and breeding a variety of species from viper geckos to poison dart frogs. Now living in Georgia, working in online advertising.
For the past several years I've been breeding superworms for all my geckos. It's a fairly simple process and with some time and patience you can raise your own feeders.

We had the opportunity to interview Kevin of New England Reptile Distributors, asking him about the amazing Tokay Gecko morphs they are working with. Here is what Kevin had to say.

Breeding leopard geckos is relatively easy and rewarding. There are so many exciting images on the internet of gorgeous and unique animals that many of us get bitten by the breeding bug.