New Series: What Goes on in My House?!
Entering the house of a dedicated gecko keeper can be a weird experience, especially if the gecko "collection" is integrated into the decor of the home. For many "not your average living room" is an understatement: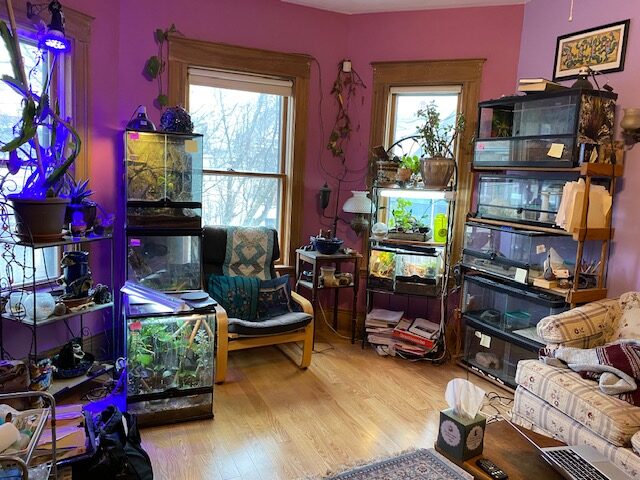 Gecko Time hopes to run a biweekly series of photo essays, beginning tomorrow, about the gecko related goings-on in different people's homes. Anyone can participate, whether you have a single gecko in one cage, a dedicated "gecko room" in the basement or a gecko collection scattered throughout your home.
We need your participation. All you have to do is send in 4-8 photos of your geckos in your home, your name and a very brief bio. You can write some comments, or you can leave it to the editors (at your own risk!). Please send all materials to Aliza Arzt at [email protected]
The first photo-essay will run tomorrow and should give you an idea of what this could look like. We're looking forward to seeing a lot of very cool gecko, gecko enclosure, gecko art and home decor pictures!
AlizaVisit Website
Aliza is a home care speech therapist living in the Boston area. She successfully bred a variety of gecko species between 2005 and 2017. She currently cares for a large number of geckos as well as a few frogs and bearded dragons. Other interests which she pursues in her copious free time include work in ceramics, practicing aikido and surfing the internet.
For the past several years I've been breeding superworms for all my geckos. It's a fairly simple process and with some time and patience you can raise your own feeders.

We had the opportunity to interview Kevin of New England Reptile Distributors, asking him about the amazing Tokay Gecko morphs they are working with. Here is what Kevin had to say.

Breeding leopard geckos is relatively easy and rewarding. There are so many exciting images on the internet of gorgeous and unique animals that many of us get bitten by the breeding bug.