What Goes on in My House?! Aliza Arzt
Welcome to the first of what we hope will be many photo-essays about our geckos in our homes. A photo essay is designed to be heavy on pictures and light on words, so without further ado: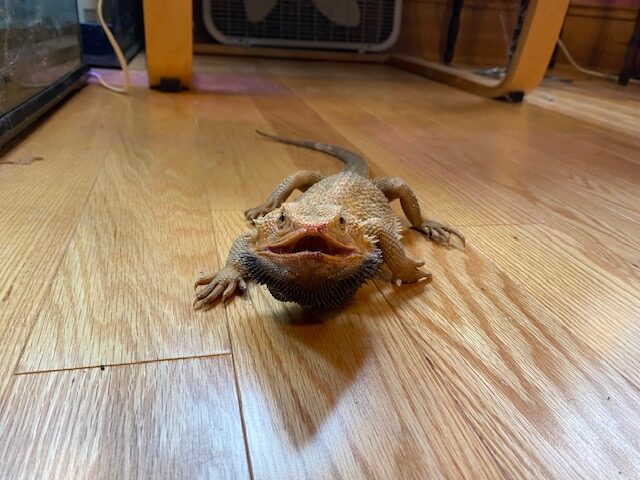 "Welcome to my new home!" says Kalwadi, our newest resident.
We share our space here:
Dining room, office, gecko room.
Mr. Blue supervising the office
In keeping with the latest housing craze, we have gone condo . . .
. . . and tried to beautify our common area as well:
All the modern conveniences are provided: Heat, light,
And yummy meals:
"Come visit us any time!"
AlizaVisit Website
Aliza is a home care speech therapist living in the Boston area. She successfully bred a variety of gecko species between 2005 and 2017. She currently cares for a large number of geckos as well as a few frogs and bearded dragons. Other interests which she pursues in her copious free time include work in ceramics, practicing aikido and surfing the internet.
For the past several years I've been breeding superworms for all my geckos. It's a fairly simple process and with some time and patience you can raise your own feeders.

We had the opportunity to interview Kevin of New England Reptile Distributors, asking him about the amazing Tokay Gecko morphs they are working with. Here is what Kevin had to say.

Breeding leopard geckos is relatively easy and rewarding. There are so many exciting images on the internet of gorgeous and unique animals that many of us get bitten by the breeding bug.