Have you ever been so lucky as to buy a bag of grapes in the supermarket and get a free lizard with them? For most people, this an unlucky experience and a rare one. However, when it does occur it often makes headlines in the local media. It is not just in these retail settings that stowaways may enter Great Britain; they may also come back from holiday with unwitting holidaymakers or be transported in freight too. Unfortunately there is very little data out there on the frequency of such occurrences, which countries most stowaways come from or which species are most likely to find themselves as stowaways. In order to plug this knowledge gap, my colleague Dave Clemens and I decided to trawl the internet for the answers.
Where to "Look" for Stowaways
So how do you find out about such stowaways? We primarily used a number of search engines in order to find occurrences with the aim to survey the time period between 2000 and 2020. However, we couldn't find a single occurrence before 2000 and pre-2016 the records in the local media were few and far between. We feel that this lack of data is driven by news outlets deleting or archiving older news stories when they are no longer relevant, and not a reflection of the frequency of stowaways. This is evident given that some of the news stories we compiled back in April are now no longer accessible. Our results are also biased as not every stowaway is going to be noticed or reported but they do help shed some light on a topic, about which very little is known.
Stowaway Geckos
Where do geckos come into all of this? Of 85 records of both reptiles and amphibians, 19 of these were geckos. As you can probably imagine, most of these were from the genus Hemidactylus (house geckos) although there were some Tarentola mauritanica (moorish geckos) too. One of the most surprising reports was of a Christinus marmoratus (marbled gecko) being found in a holidaymakers bag after a trip to Australia, earlier this year. I'm also happy to say that our results are going to be published in the Herpetological Bulletin on the 31st December, just in time for the New Year! You can find a link to the paper here. [ed. note: this link will not be available until after 12/31/20.] If you don't have a subscription to the British Herpetological Society please feel free to contact me and I'll send you a copy.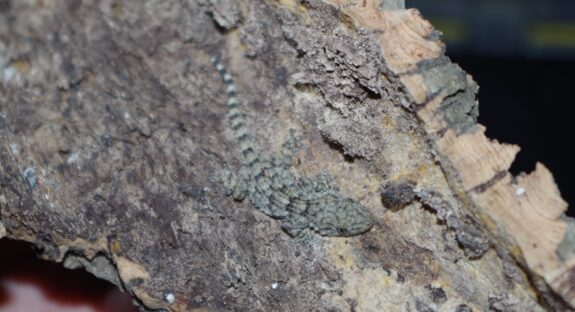 We hope that this study helps to pave the way for future research looking at stowaway reptiles and amphibians across the globe. Whilst it may be impossible to prevent them entering Great Britain (or other countries/territories) at all, we should try to learn as much as possible in order to mitigate any negative effects. Not only may they carry parasites or diseases which could threaten our native wildlife, they may also become established and pose a direct threat through competition or predation. Whilst this may not seem likely to happen now, who knows what the future holds especially in the face of climate change? Thankfully for now, our relatively harsh winters will prevent most of the species we identified as stowaways from establishing but that may not always be the case. In the not so distant future, geckos may become part of our naturalised herpetofauna.