As gecko-keeping hobbyists, many of us are fairly well-read in our specific area of gecko interest.  We tend to read books, magazines and online forums that focus primarily on care and breeding of various gecko species.  Geckos: The Animal Answer Guide takes a very different approach.
This book is the tenth in an "Animal Answer Guide" series published by Johns Hopkins Press (some other volumes are about parrots, turtles, squirrels and, surprisingly, porcupines).  All books in the series are formatted as a collection of questions and answers grouped into thematically related chapters.  The answers are short, usually only a page or two in length.  The Gecko book includes the following chapters:
Introducing Geckos

Form and Function

Gecko Colors

Gecko Behavior

Gecko Ecology

Reproduction and Development

Foods and Feeding

Geckos and Humans

Gecko Problems (from a human viewpoint)

Human Problems (from a gecko's viewpoint)

Geckos in Stories and Literature

"Geckology"
The book also includes two appendices ("Geckos of the World", "Organizations and Publications Devoted (in Part) to the Study of Geckos), an extensive bibliography and an index.
The author, Aaron M. Bauer, has been studying geckos in the wild for more than 30 years.  He is currently a Professor of Integrative Biology at Villanova University, chairman of the Herpetological Association of Africa and past president of the Herpetologists' League.  In this book, he has taken on the daunting task of providing a tremendous amount of information about geckos in the wild in a way that is useful both to experienced gecko keepers and the general public.  The answers to each question are, as mentioned above, fairly brief, and written in easy to understand language that manages not to insult the readers' intelligence.  The extensive bibliography provides an opportunity for further study about topics that pique the readers' interest.
The material in the book is refreshingly up to date.  The author, for example, uses the new species designation for crested geckos (Correlophus ciliatus) and discusses the relatively recently publicized severely endangered status of L. williamsi. 
As the author of both the questions and the answers, Dr. Bauer comes up with questions that never would have occurred to me to ask: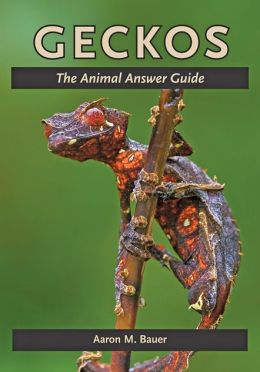 "Why should people care about geckos?"
"What did extinct geckos look like?"
"Can geckos hang on [to smooth surfaces] when they're dead?"
"How many teeth do geckos have?"
"What roles do geckos play in religion and mythology?"
In addition to appreciating the accuracy of the information about geckos that I already knew and getting "food for thought" from the unusual questions, I also learned many things I didn't know about geckos:
One source of prehistoric gecko study is a 54 million year old gecko specimen preserved in amber (p. 16)

Geckos have cones in their eyes that have developed to enable them to see in color at night (p. 24)

The physics of a gecko's grip on smooth surfaces enables them to continue to hang on to these surfaces even if they are unconscious or dead (p. 33-34)

Gargoyle geckos may have the most varied diet of any gecko (p. 89)
Dr. Bauer displays some of the dubious consequences of his extensive field work in his response to the question "Do geckos bite?".  In his answer, he provides details, based on personal experience, comparing and contrasting the biting styles of C. turneri, R. Auriculatus, R. leachianus and G. gecko.
In general, the book, which I received in its paperback edition, is well organized and easy to use.  It can be read cover to cover or used as a resource for specific areas of interest.  My one quibble is the predominance of  black and white photos in most of the book.  Although there are two multi-page sections with high quality color photos, the black and white photos in the rest of the book, especially in the section about gecko colors, did not appear to be of particularly high quality and detracted from the book's appearance.
Dr. Bauer states in his introduction that he himself is not a keeper of geckos:
In the interest of full disclosure, I am not now and have never been a big fan of keeping reptiles as pets; I have a "black thumb" when it comes to keeping animals alive in captivity.  However, I do not begrudge this pleasure to those who find it rewarding, especially as many such people develop a greater appreciation for biodiversity and the natural world through their exposure to these lizards.
His last sentence is, I feel, the key to the importance of this book for gecko keepers.  The information in this book enables us to shift our focus from the details of successfully keeping geckos to the range of habits, features and characteristics that the Gecko family as a whole displays.  It gives us a window into the lives of our geckos in the wild, which enables us to keep them even more successfully in captivity.  It successfully broadens our outlook and appreciation of these fascinating creatures that mean so much to us.
Geckos: The Animal Answer Guide (The Animal Answer Guides: Q&A for the Curious Naturalist)
by Aaron M. Bauer
Johns Hopkins University Press, 2013