[ad#superworms]

During the recent Fourth of July holiday weekend I was privileged to attend the show Geckos, Tails to Toepads which is running at the Philadelphia Academy of Natural Sciences from May 30 to September 7. There is a lot of information available at the Academy of Natural Sciences website, http://www.ansp.org/geckos, including the exhibit highlights, and a gecko gallery with photos of some of the featured geckos. There is also information about 2 participatory events coming up: a gecko care workshop (the second part of this workshop will be aimed at the more experienced gecko keeper) and a gecko art show and sale, for which the museum is still soliciting art. Visit the website for more information about these events.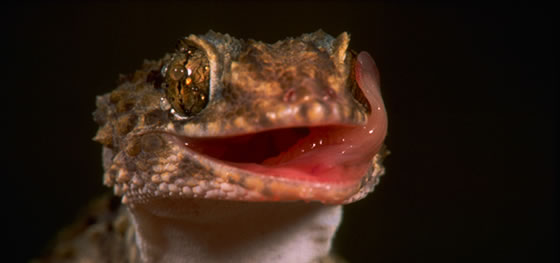 There's always a risk when a relative expert in a subject visits an exhibit about that subject which is geared to the general public. I was worried, before I got to the show, that it would be too elementary to interest me or that they would get things "wrong" and I would be annoyed. This was not the case. The show featured at least 20 different kinds of geckos in gorgeous habitats (these exhibits were created by Clyde Peeling at his REPTILAND), excellent interactive videos, and informative posters that taught much to experts as well as beginners. Many of the kids at the exhibits had a wonderful time just trying to locate the geckos inside their habitats.
For me it was an opportunity to see geckos that are not in my collection and also not easily available for viewing. There was an excellent 6-minute video about research that is being done about geckos' adhesive foot pads that went well beyond the usual "geckos have velcro-like foot pads" information. The leopard gecko part of the exhibit was particularly interesting. Since leopard geckos are so popular and there is such a variety of morphs available, the exhibitors decided rightly, in my opinion, that displaying a single cagefull of leopard geckos would not be sufficient. Instead, they chose to focus the exhibit on the variety of existing leopard gecko morphs by displaying, in adjacent but separate enclosures, a diablo blanco, a "tangerine" (my only quibble with the entire exhibit is that they chose a bell albino of questionable tangerine coloring to represent this morph, rather than a superhypo tangerine), a bold stripe and a giant. In the same area there was also a repeating short video of Ron Tremper talking about breeding leopard gecko morphs including footage of him working at his breeding facility.
There was much more. I saw at least one gecko I'd never heard of before (Ptychozoon kuhli, the flying gecko) and learned about the difference between diurnal and nocturnal gecko eyes. If you have a chance this summer to get to Philadelphia, I highly recommend you go see this excellent exhibit.
All photos are property of The Academy of Natural Sciences.