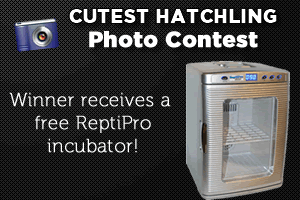 Cutest Gecko Hatchling Photo Contest: Enter Now
Gecko Time is pleased to present the gecko community with a brand new photo contest. The Cutest Gecko Photo Contest, sponsored by ReptiPro Incubators is a photo contest that is open to all gecko hatchling and juvie photos!
The Requirements
Here are the requirements for the photo contest:
You may submit one photo
You must have taken the photo
The photo must be of a gecko hatching, hatchling, or juvie
You are asked to subscribe to Gecko Time updates through RSS or Email here
[ad#sponsor]
What can you win?

For this photo contest we are proud to have ReptiPro as our sponsor. The winner of the photo contest will receive a ReptiPro 5000 – Reptile Egg Incubator! This incubator is amazing, perfect for a gecko breeder in every way. The ReptiPro 5000 has heating and cooling capability so it will keep your eggs at the exact temperature you desire no matter what the surrounding temperature is. It also holds humidity very well and has increased our overall hatch rates by 25%. Read more about this incubator on ReptiPro.com.
Submit your photo
[contact-form 3 "Photo Contest"]
Dates
Submissions will be open from September 22nd to October 2nd. Voting will begin on October 7th and close October 21st 12PM eastern time.
MatthewVisit Website
I've been keeping odd pets since I was 14, keeping and breeding a variety of species from viper geckos to poison dart frogs. Now living in Georgia, working in online advertising.
For the past several years I've been breeding superworms for all my geckos. It's a fairly simple process and with some time and patience you can raise your own feeders.

We had the opportunity to interview Kevin of New England Reptile Distributors, asking him about the amazing Tokay Gecko morphs they are working with. Here is what Kevin had to say.

Breeding leopard geckos is relatively easy and rewarding. There are so many exciting images on the internet of gorgeous and unique animals that many of us get bitten by the breeding bug.