Opportunities to purchase reptiles, feeders and supplies in person in a store are largely limited to big box chain pet stores and large, well-known, privately owned stores.  Globalization, the Internet and the economy have made any other option, such as the mom-and-pop reptile store, nearly an impossibility.  Despite these obstacles, Jabberwock Reptile Store owner Steve Ayer and his family have made this option work for them and the reptile community for the past 3 years.  Steve first posed the question of whether opening a reptile store was feasible several years ago to a reptile forum you and from what I remember, the responses weren't encouraging.  As you will read below, his determination led to the opening of Jabberwock Reptiles in Winchester in 2011.
The existence of a reptile store brings up many issues besides spreadsheets and inventory: competing with the Internet, interacting with the reptile community, family and business relations.  Jabberwock Reptiles has motivated me to make as many of my gecko-related purchases as possible at the store instead of depending on Internet sales.
If you find yourself in the Boston area, please stop in to Jabberwock Reptiles:
959 Main Street
Winchester, MA 01890
781-729-0135
and online at www.jabberwockreptiles.com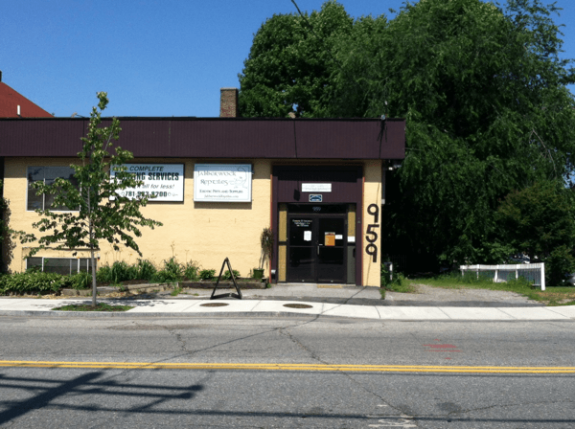 The Interview
What's your background with reptiles?
As a kid I was fascinated by animals and nature in general. I was always catching snakes, turtles, salamanders, and everything else. I would try to keep them, but back then there was no Internet and learning to care for them properly was a challenge. I studied biology and worked in biomedical research for a while, although not with reptiles. My interests were really in genetics and the mechanisms of pattern formation and development. Several years ago I began to get interested in keeping reptiles as pets and learned all I could about their genetics and breeding. Mostly I focused on leopard geckos because of their ease of breeding and fast reproductive life cycle.
  How did you get started with a reptile store?
In addition to biology I have also been engaged in entrepreneurship; I started or helped start several businesses and am always on the look out for new opportunities. I noticed that there was not a good place in my local area where reptile keepers could buy quality feeders and supplies. The big box pet store chains just didn't have a good selection and the staff is generally not experienced with reptiles.
The nearest reptile focused pet store was nearly an hour drive from Boston and so the idea of opening a reptile pet shop closer to Boston was born.
Could you say something about the learning process you went through in getting your store up and running?
I had never started a retail store, or even really worked in one since junior high school when I was a stock boy at a small family-owned general store, so I had a lot to learn. I started researching what was involved in opening a pet store, from the state laws, to leasing a storefront, to where I would buy goods to sell. There was a ton to learn. I probably should have spent more time doing market research to determine how much demand there would be, but I found this to be difficult because of the niche I was focusing on. And so I just charged forward.
It was three years ago this month that I found an affordable space to lease and started renovating it to be used as a retail store. There are several requirements to fulfill for the Commonwealth of Massachusetts before you can receive a Pet Shop License, like having a quarantine room with a working sink, having the right kinds of flooring, etc. But Linda, the Pet Store Inspector, was very nice and worked with me from early on to make sure there would be no surprises.
There are a number of other things that one needs to do to open a business, like registering the name, opening a bank account, applying for credit, learning bookkeeping or hiring an accountant. These are obvious and were relatively easy to do, but there was so much more to learn and it continues to this day, three years later. It is the questions that you don't even know that you need to ask that come back to haunt you.
Where do you get your stock from?
I assume you mean live animal stock. We get animals from several sources. A few we actually breed in the store. We have several breeder leopard geckos, bearded dragons, crested geckos and a few other random reptiles from time to time. We also buy some reptiles from local breeders. There are a good number of hobby breeders in the area that don't want the hassle of selling online or vending at the reptile expos. They provide us with stock at wholesale rates. The final place we buy animals is from wholesale distributors. This is the source for the herps we can't locate locally.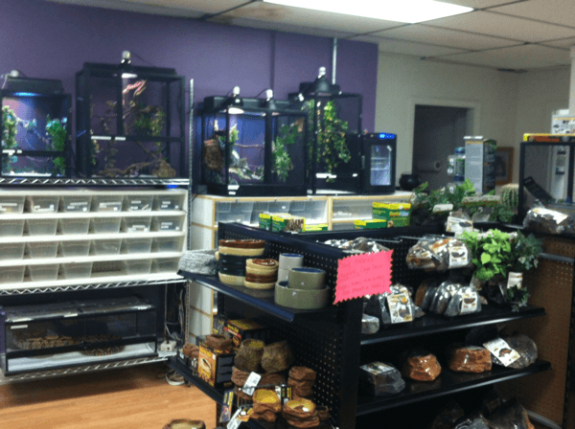 What percentage of your store's stock is geckos?  What types of geckos do you have?
Geckos are probably around 10% of the live animals we carry. Mostly this is leopard geckos and crested geckos, which are by far the best selling geckos. We also have African fat tail geckos, panther geckos (P. picta)  day geckos (P. grandis) and a couple of other less common species which changes with availability.  We typically have 8-12 species of gecko in the store at any one time.
How do you decide which types of geckos to stock?
Early on we tried a large number of different species but found that most are not good sellers. In fact we ended up selling most of them at reptile expos and not from the storefront. Now we concentrate on ones that have proven to be good sellers in the store. These seem to be the ones that families want to keep as pets. Maybe in the future when and if we have a larger clientele, we may carry a wider variety but for now we will stick to the basics.
With the volume of business in geckos, feeders and supplies done on the internet, how are you able to survive as a store?
That is a good question. With most things available online, we focus on the convenience of getting items locally and providing knowledge and advice that are harder to find online. We strive to provide the best information and tailor made solutions for our customers, and hope that customers value that enough. Most of our customers are pet owners with one or two reptiles and not breeders or big time hobbyists (although we do have a few loyal customers with big collections).
We also offer reptile boarding and other services like nail cutting, and are looking for additional services customers would be interested in. We aim to make the store a fun and interesting place to visit and come back to time and again, with some new or unique animals to learn about.  We all love the animals and their interesting biology, and we enjoy sharing that with our customers, especially the younger ones.
Why should local customers buy from Jabberwock as opposed to shopping online?
For the same reason you don't buy most of your groceries online: you like the convenience and the savings of getting it NOW and not having to pay for shipping. It really makes no sense to order your crickets online if you only buy a few dozen a week. Plus you don't have the feeders arrive dead. We will suggest what you need given your circumstances – Amazon can't discuss how your reptile set-up needs to be designed for your space. As far as supplies go, we keep our prices low and in some cases they are even less than Amazon's. Plus there is the good feeling people get shopping from a family owned business that greets you by name as opposed to buying from a computer-driven website.
What are some of your biggest challenges at Jabberwock?
Everything in business these days is a challenge and it's hard to put my finger on one thing. From government regulations, dealing with employees, balancing the books, trying to locate inventory at reasonable prices, just about everything is a challenge. But that is what makes being an entrepreneur interesting. One big challenge for me is managing employees. It takes a lot of communication and I am still learning the best ways to do that. I want to create a team that works together for our customers.  Another challenge is trying to figure out the right methods for advertising.  I know there are more people out there that love reptiles and haven't heard of us yet, but I don't know the best way to get the word out!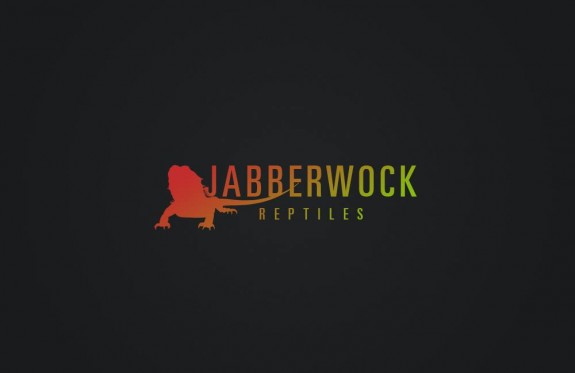 Tell us something about the sales associates and the customers at the store.
I have several employees that work at Jabberwock. Kendall is the only full time employee and she is in charge of the animal care and handles much of the customer service with respect to the different animals. She has a real passion for reptiles and animals in general and is great at seeking out information on care for all the different species we carry.
My son Ben covers the store many times when I am not there. He has learned a lot about the animals but is also great at all the computer related activities like managing inventory, etc and enjoys working with customers. We also have several part time workers that do everything from washing the dishes, cleaning the animals and the store in general to helping with customer service.
Our customers are great people and the only reason we exist. Many are regulars that come in weekly to get food for their pets. They share how their bearded dragon, boa constrictor, etc. is doing and many times will engage each other in conversations and share experiences they have in caring for reptiles. Every day brings some fun stories and new information.  I didn't expect the sense of community that the store brings, and it is what keeps me going some days.
Is there anything else you want us to know about Jabberwock Reptiles?
We love animals and their biology, and love sharing information with our customers.  We aim to make our store a fun place to come to, a place worth the visit.  We welcome feedback on how we can improve.  Small businesses are definitely being squeezed out, so in general I hope that people that value the personal experience, knowledge, trust and interest small businesses excel at will reward them with their business.  Otherwise all of us will only have a few large companies doing Internet sales in the future.