It's natural for gecko keepers, like anyone else, to publicize their successes and avoid discussion of their failures.  Failures are frustrating and even somewhat embarrassing.  Discussing them publicly also leaves one open to criticism.  Despite having all these feelings, I've decided to write about my failure this past year to successfully breed Lygodactylus williamsi — electric blue day geckos.
Acquiring the Stock
I've been fascinated with L. williamsi and the males' gorgeous coloring for years and figured eventually I'd get some.  About a year and a half ago I was lucky enough to acquire a proven male from craigslist along with lighting and two 12″x12″18″ exo-terras for an amazing price. About 3 months after "King" was installed in my home, I bought a female L. williamsi from Leann Christenson (of daygecko.com).  After the new gecko finished her quarantine period, I put her with the male and things seemed to go well, until she died unexpectedly several months later.  I could find no reason for her death.  She hadn't lost weight, had no bite or scratch marks on her and had shown no signs of stress.  I felt terrible telling Leann what had happened since she had entrusted one of her geckos to me.  She was amazingly supportive and offered me another female in return for a male offspring.  Last summer, the second female arrived. She settled in without any problems, responded well to the male and laid 5 clutches of eggs between September and December 2013.  Once again, in February 2014, she died with no warning and no sign of any problem.  The male continues to be healthy.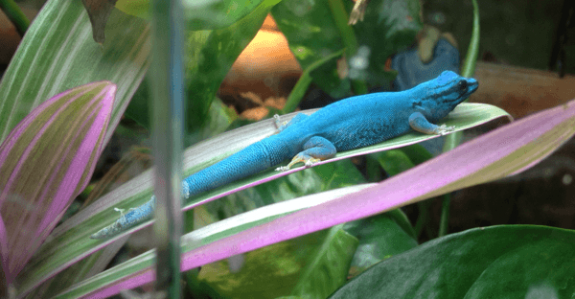 Incubation
The female was provided with floral tubes for laying and with one exception, laid all her eggs in the tubes, which were then placed in the incubators. The eggs were incubated in three locations:  four eggs were incubated for female at 75F, four were incubated for male at 83F and two were laid in the cage and incubated in situ.  Seven of the ten eggs hatched – four from the female incubator, two from the male incubator and one from the parents' cage.  The first two hatched in November 2013, and the last 5 hatched between Feb. 5 and Feb. 14 2014.  Incubation times ranged from 51-123 days.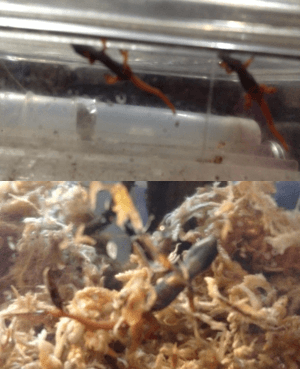 Hatchlings
The first two hatchlings were kept the same way I had successfully kept the E. agricoli I had previously hatched.  They were placed in a 32 ounce deli cup whose cover had gauze-covered air holes.  Moist sphagnum moss and a piece of cork bark were placed in the deli cup and the entire cup was put in my P. klemmeri cage under the basking light.  The container was misted twice daily.  At day 3, CGD and small crickets were provided.  The hatchlings started out active and energetic and within 10 days both had died.  I consulted with Leann, who recommended a glass set-up similar to that of the parents with access to a warm basking light, good hydration and daubs of peach baby food around the cage to enable them to find food wherever they happened to be.
Accordingly, I set up an Exo-terra nano (8″x8″x12″) with a compact florescent in a small canopy, a halogen puck light, a Magnaturals" ledge and twisted fake vine to provide climbing and basking spots and a fake plant to provide hiding spaces.  I installed a hygrometer, misted frequently and fed peach baby food and small (1/8″) crickets.  Once again, within 2 weeks, the remaining 5 babies had died.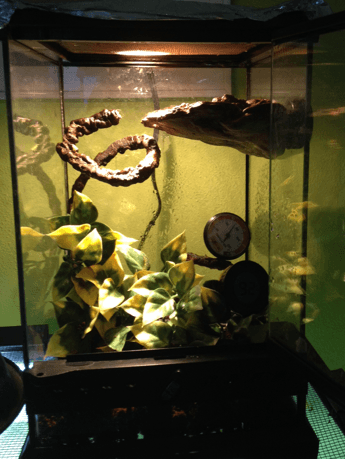 What Was the Problem?
We couldn't understand what had gone wrong.  The set-up seemed to be similar to that of other keepers who have successfully raised L. williamsi.  The hatchlings appeared to be healthy at birth.  In cases like this, one starts grasping at straws to figure out what the problem is and what needs to be changed.
I can think of only one possibility: all the hatchlings were produced during the New England winter.  While the temperatures in the enclosures were appropriate, the winter forced hot air heating made humidity difficult to maintain.  The last misting of the night occurred at 2-3am. By the time of the first morning misting, only 5-6 hours later, the hygrometer indicated that the humidity had dropped below 40%.  The halogen light provided heat, but also may have desiccated the delicate hatchlings.  I don't know that I ever saw any of the hatchlings eating; it's possible that the low humidity interfered with digestion.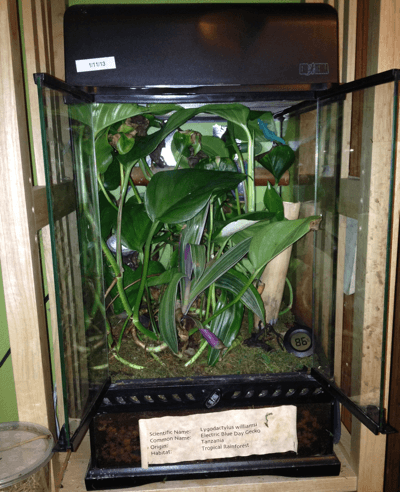 Future Plans
Although in February I was saying "never again", I just can't give up.  I plan to acquire another female at the end of the summer.  She will remain separated from the male except for a brief period for mating (after her quarantine).  This, and the provision of a dish of calcium without D3 (and D3 supplementation through diet) should reduce any possible stress caused by over-breeding.  The exo-terra nano is being maintained currently as a terrarium with plants in order to maximize humidity. The biggest change is that breeding will take place during the spring and summer of 2015, rather than in the fall and winter.  Currently the humidity in the nano ranges from 50-80%.
I'm still hoping I will succeed in my plans to breed L. williamsi.  If I'm successful, I will redouble my efforts to develop an L. williamsi breeders list in the U.S. (see the Gecko Time article about this endeavor) so prospective breeders can obtain unrelated L. williamsi pairs.
Wish me luck.  Any comments or suggestions to increase my success are welcome.