More and more often, I hear people saying that they want to start their own reptile rescue. While having additional reptile rescues would be absolutely amazing as the few that exist are struggling to meet increasing surrender requests, rescue is more than just taking in reptiles in need. Starting, and maintaining, a rescue requires extensive planning, paperwork, time, space, money, and lots and lots of patience.
Paperwork and Money
Rescue requirements differ in every state so can only attest to the standards applied in Massachusetts where we are based. To legally operate and call yourself an animal rescue organization in Massachusetts you have to complete the Animal Entity Registration Form, have your 501 (c)(3) status, and be a registered Non-Profit organization with the Massachusetts Office of Attorney General. I will spare you the exact details of all those registrations and titles but in short it is around 100 pages of paperwork to be completed and between $600-$1,000 in fees. Additionally, before you can get started with any of the above, you also need to incorporate your organization which is an entirely separate form and a $35 fee. Aside from the 501 (c)(3) status, all of these registrations require yearly filings so be prepared to fill out more forms and pay more money.
Once you have surfaced from the mounds of paperwork, and hopefully been approved to operate as a rescue, you need to start spreading the word about your organization and begin fundraising unless you plan to pay 100% out-of-pocket. This means setting up email, a website, social media accounts, and possibly attending events. Building up an audience takes time and fundraising generally starts out very slowly until you have established a good reputation. Oftentimes just asking for donations does not generate much in the way of funds so you need to think outside the box about how to raise money.  This could include selling t-shirts or holding an auction, activities which come with start-up costs. Plan to pay for the vast majority of costs for your rescue for the first six months to a year which includes but is not limited to vet visits, medication, surgery, enclosures, supplies, electricity, food, and transportation. Even when you are more established, a gap remains between costs and funds raised so know that you might have to cover that. In my own experience, I pay anywhere from $150-$600 a month from my own account to ensure that the rescue stays afloat and the animals get the care they deserve and this is with a fairly strong fundraising component.
While building a reputation and getting your name out there is critical for fundraising and getting animals adopted the flip side is you are also attracting people who do not want to, or can't, care for their reptiles any longer. On average, we get a surrender requests every day to every other day. This can get overwhelming rapidly and as an organization you must establish how many animals you can care for at any given time. This translates into ensuring you have enough physical space for the animal, have or can get the necessary enclosure and supplies, have time to give the animal appropriate care, and have the funds to get the animal to the vet and for any needed follow-up care. Sadly, most of the animals surrendered are not in good health and many take several months to over a year to fully recover and be eligible for adoption so when accepting an animal a long term approach has to be taken. There are also times where you will have to be the one to make the decision around an animal's quality of life which is never easy but is a part of rescue.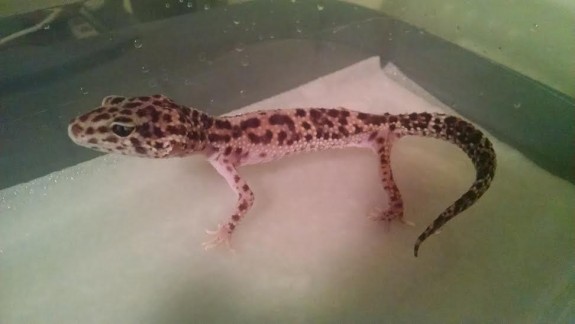 Patience and People
At the beginning, I mentioned patience. Patience has very little to do with the animals themselves though it can be frustrating at 10 PM trying to handfeed a stubborn gecko after working 8+ hours and spending the rest of your day cleaning enclosures, soaking, medicating, and feeding. The patience actually comes into play when dealing with people. Most rescues get started on the idea of helping animals but you can't do that without interacting with humans. You need to speak to and handle the people surrendering an animal, those who are looking to adopt, those who want to foster (if you are a foster-based rescue), those who want to volunteer, and anyone else who feels they should have an opinion about your organization. As stated earlier, the vast majority of animals surrendered come in poor condition but you still have to be respectful to the people who allowed the animal to get into that state and be poised when speaking to them as hard as it may be internally. On the flip side, you need to be a comfort to those who are surrendering an animal they obviously love for reasons beyond their control. You will have people become irate when you refuse to accept an animal into your rescue, even if you have a valid reason. Some may also get angry when you say no to an adoption request. People online, and in person, will question your methods despite having no rescue experience themselves especially when you are forced to make the difficult decision regarding euthanizing an animal.
After reading all of this, you might wonder why anyone gets into reptile rescue. I admit it, I am often tired, overwhelmed, and low on patience but at the end of the day the feeling of seeing an animal at death's door now thriving, or getting pictures and a happy message from an adoptive family greatly outweighs the negatives. If you are thinking of getting started I would encourage you to do research and even better find an already established reptile rescue and volunteer and/or foster to see the day-to-day work involved.