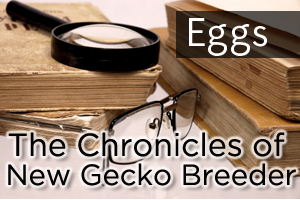 Chronicles of a New Breeder: Eggs!
So much has happened since the last article I have a hard time keeping my thoughts organized. First, and most exciting of all, my SHTCB female has laid her first clutch of eggs. They are currently resting at 82 degrees in a G.E.O. (Gecko Egg Organizer: http://www.yourgeckoguy.com/?page=geo) over perlite. One egg has a dent and some mold but the other looks really good. I'm hoping at least one hatches but I'm prepared for the worst since first timers don't have the best of luck. I'm still waiting for my Tremper Patternless to lay her first clutch and recently reintroduced the male after waiting a month for her first clutch.
[ad#sponsor]
Continuing the good news trend I was able to find a 14 tub Vision rack on Craigslist for $200. I'll be assembling it tomorrow and can't wait to start filling the tubs. That purchase, in addition to some coconut coir for the lay boxes, does bring my current ledger down to -$818.73. Not an insurmountable debt by any means but turning a profit my first year doesn't look like it's going to be easy. At least my mealworm colony has kept me from having to buy feeders. That would have really made it impossible.
My Mack Snow Eclipse female is still underweight and has hovered at 42 grams for the past 3 months. In the past few days she has started feeding more heavily so I'm hoping to be able to breed her pretty soon since she is arguable my most important female and the key to my 2 year Snowglow plan. The current  weight situation is as follows:
I have also ordered a fourth female, a Sunglow het Raptor, from CrestedGecko.com. I used the gift card that I won in the KillCrypto.com auction. Pairing her with my Sunglow het Raptor male should produce some geckos worth selling and some that can be mixed into my Snowglow project.
My new website LongIslandGeckos.com is almost ready to be launched. Just visit the site and join our Facebook page to be notified when it goes up. Once I have some geckos available I'll be running a contest or two for my Facebook friends so be sure to "like" the page to be included.
From now on I will be closing my articles with an Incubator Report and Current Hatch Count. This way at the end of the season we can see what has hatched out against what was laid. This time we'll only see the Incubator Report, hopefully next time I'll have something that hatches so we can run the hatch count. As always please comment and ask questions.
Incubator Report:

Justin HansenVisit Website
Justin Hansen's first reptile, an African Fat Tailed Gecko, sparked an interest that ended up consuming a dorm room in New York City and almost getting him expelled. Now that he has the space he is renewing his passion for breeding geckos. Currently focusing on Leopard Geckos he hopes to be able to branch out to other gecko species. He will be found at LongIslandGeckos.com once he has a spare moment to finish the site.
For the past several years I've been breeding superworms for all my geckos. It's a fairly simple process and with some time and patience you can raise your own feeders.

We had the opportunity to interview Kevin of New England Reptile Distributors, asking him about the amazing Tokay Gecko morphs they are working with. Here is what Kevin had to say.

Breeding leopard geckos is relatively easy and rewarding. There are so many exciting images on the internet of gorgeous and unique animals that many of us get bitten by the breeding bug.