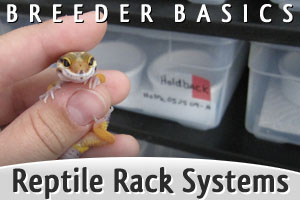 Breeder Basics: Reptile Rack Systems
Whether you are a hobbyist or breeder, there comes a time when you consider purchasing a reptile rack system to house the growing number of animals in your collection. In this article we will discuss the pros and cons of three of the more popular reptile rack systems on the market.  We will also touch on the option of building your own rack system to suit your individual needs and budget. This is part two of the Breeder Basics series by Brittney Gougeon, preceded by Beginner Breeder Basics: Comparing Incubation Mediums.
[ad#sponsor]
Rating System:
Price – based on breaking down the cost of each unit per animal it can house.
Customizability – the ability to provide a system based on your specific needs.
Size – differences in weight and wall space used by each system.
Heating System – available heating options for the rack system.
Overall Package – overall value compared to the other units.
Price Pricing includes rack, shipping, tubs, and heat. Comparable units are used in price comparisons
Adult Rack
AP – $515 – 20 tubs (Model Iris 375)
Price per Gecko = $25.79
Hatchling Rack
AP – $430 – 30 tubs (Model Iris 330)
Price per Gecko = $14.32
Of the three rack systems compared in this article, AP provides the best value per animal housed and therefore receives the highest rating for pricing. Score: 5/5
Customizability: Animal Plastics will build units custom to your needs. If you do not see what you are looking for on their website, you can call the company and request specifically what you need. You can can also choose between white and black material. 
Score: 5/5
Size: Since the majority of AP rack systems are closed-air units, they can be heavier than other reptile racks available on the market. However, this problem can be lessened by purchasing the optional caster wheels. This system can also take up more wall space than other units as they are wide but not tall.
Score: 3.5/5
Heating System: AP offers 2 different heating options for their pre-designed rack systems and also provide heat cable on request. This gives the customer greater flexibility and freedom when deciding how to heat their geckos' enclosures.
Score: 5/5
Overall Package
Score: 18.5/20 – 92%
Price: Pricing includes rack, shipping, tubs, and heat. Comparable units are used in price comparisons
Adult RackVision – $536 – 20 tubs (Clearview Model 1754) – Price per Gecko = $26.79
Hatchling Rack
Vision – $1005 – 60 tubs (Hatchling Rack Model 15) – Price per Gecko = $16.75
The Vision Rack system is second overall in price per animal. However the smallest hatchling rack they provide is 60 tubs and costs over $1000. This is not economical for the hobbyist or small breeder. Score: 3.5/5
Customizability: Vision racks are pre-built units that can accommodate any tub size. They do offer customizable heating options of their Versa model racks, an option currently not available on any other rack system.  Score: 4.5/5
Size: Vision racks are generally very tall units, taking up less floor space than other models on the market. The size can be a challenge for shorter keepers, requiring a step ladder to reach higher shelves. Score: 3.5/5
Heating System: The heat cable on the shelves of the vision systems are customizable, allowing for greater heat on some shelves, and less on others. The open-air system can potentially cause heat to escape, therefore increasing the amount of energy used to heat the racks. Score: 4/5
Overall Package: 15.5/20 – 78%
Price: (pricing includes rack, shipping, tubs, and heat. Comparable units are used in price comparisons)
Adult Rack
Reptile Basics – $259.99 – 8 tubs (Iris MCB-S Wide) – Price per Gecko = $32.49
Hatchling Rack
Reptile Basics – $279.99 – 16 tubs (Iris Shoebox Rack) – Price per Gecko = $17.45
Even though the Adult Racks are more expensive per gecko, the Reptile Basics Racks are affordable for the budget shopper, allowing them to purchase smaller pre-assembled all inclusive racks as they need more space. These units are ideal for smaller breeders and keepers with less than 2 dozen animals. RBI racks are unlike any other unit on the market because their pricing includes the unit, heat, shipping, and tubs. Score: 4/5
Customizability: Reptile Basics does not offer custom units for sale on their website, so customers are limited to the options on the website. Score: 3/5
Size: RBI racks are small and compact units that are stackable. You can buy one unit at a time and add more space as necessary. RBI does not offer large pre-built units due to the increased shipping costs. Score: 4/5
Heating System: Some units allow the buyer to choose between belly or back heat using flexwatt, otherwise the units use 11" flexwatt for back heating, allowing the unit to be heated by ambient heat from the back forward.  Score: 4/5
Overall Package: 15/20 – 75%
Final Notes
If none of these packages sound like the right solution for you, there is always the option of building your own rack system. This may be more time consuming and require more research, but it can save you up to 60% of the price of a pre-built reptile rack system.
[ad#300]
For the past several years I've been breeding superworms for all my geckos. It's a fairly simple process and with some time and patience you can raise your own feeders.

We had the opportunity to interview Kevin of New England Reptile Distributors, asking him about the amazing Tokay Gecko morphs they are working with. Here is what Kevin had to say.

Breeding leopard geckos is relatively easy and rewarding. There are so many exciting images on the internet of gorgeous and unique animals that many of us get bitten by the breeding bug.