[ad#superworm]
Ohio Gecko is a family business run by Thad Unkefer and his two sons Dylan, age 13, and Derek, age 11. Ohio Gecko started in 2006 when Dylan was given a Murphy Patternless and then Thad bought a couple of Mack Snow Hypo leopard geckos from JMG Reptiles. Everything snowballed for them, and their goal is to produce quality geckos while giving the boys good real life business experience.
Where do you see Ohio Gecko headed in the future involving your projects?
We don't have a goal of where we want to be in 5 years, but we want to keep it fun, make a profit, and produce high quality geckos. As far as our projects are headed, we have African Fat Tails, Leopard Geckos, and this year we added Viper Geckos and Nephrurus Amyae Geckos.
In our AFT projects we are working with Super Zero White Outs, Granites, and Stingers.
In our Leo projects we are working with RADARs, Red Stripes, and some greens and lavenders, and producing some really nice Sunglows, SHTCTB, Giants, Reverse Stripes, and Mack Snows.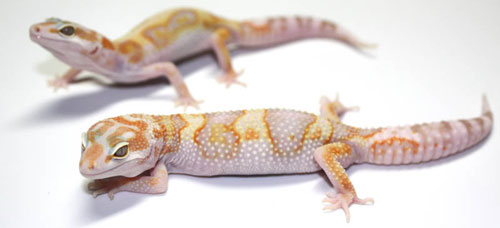 Do you think you have a particular niche in this market?
We do a lot of shows and have produced quality geckos. Because of that we get a lot of repeat business and referrals.  Dylan and Derek do a good job at the shows and most people like to talk to them to find out what they know. There aren't very many shows that we have seen that have had a 13 and 11 year old running the booth by themselves.
We also offer full genetic backgrounds on the geckos we produce. This includes the parents, grandparents, and great grandparents and their genetics.  While at shows we offer humid hides and full habitats for geckos.
[ad#sponsor]
Would you consider yourself a small, medium, or large breeder? What size would you like to grow to?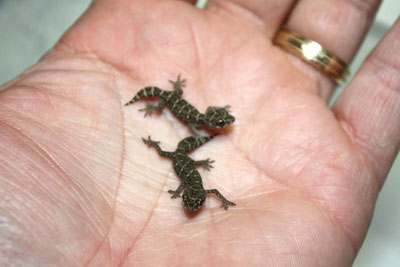 We consider ourselves to be a medium size breeder with over 350 geckos and currently adding more. We converted a 10'x12' room in our basement into our main gecko room that can hold over 400 geckos.
We also use another part of our basement for quarantined geckos and bug breeding.  We breed our own mealworms, superworms, and dubia roaches to cut down on feeder costs.
What reptiles do you enjoy breeding the most? And what is your favorite morph?
We're not sure which gecko we enjoy the most. The Viper Geckos are cool because they are new and the N. amyae are exciting because we have not laid any eggs yet.
As for our favorite morphs: Thad and Derek really like Super Zero White Out African Fat Tails while Dylan likes the White Out African Fat Tail.
 What type of problems or challenges have you faced in starting to breed reptiles?
Our original problem was getting good info.  There are so many conflicting articles on the web and it was hard to distinguish between the good and bad info.  We really dove into www.geckoforums.net at first as there is a wealth of knowledge and information on that site.
Are you affiliated with any groups, organizations, clubs, or forums? Do you attend any reptile shows?  If so, which ones?
We are part of several forums under the name ohiogecko.  The main forum we use daily is www.geckoforums.net. We attend the Taylor, MI, Columbus and Cleveland, OH shows every month. We also attend the Mars, PA show bi-monthly.
Big Thanks to Ohio Gecko!
Thanks Thad, Dylan, and Derek for taking time to tell all of us about what you are doing at Ohio Gecko.  You can check the guys at Ohio Gecko out on their website http://www.ohiogecko.com. 
The Next Interview.. Could be you!
Our next Interview is yet to be determined.  And as always if you would like to take part in this interview series please contact Cory at CSM Gecko.  You can contact Cory through his website www.csmgecko.com or email [email protected].