A successful reptile breeder, in addition to knowing the mechanics of breeding and caring for hatchlings, must also understand basic genetics in order to plan and execute reptile pairings. In addition, the only way to make a positive contribution to herpetoculture requires the  ability to provide the genetic history of the animal he or she produces.  An understanding of genetics means that the breeder is familiar with terms such as "dominant", "recessive", "homo/hetero-zygous"," polygenetic", that he or she knows the possible outcomes of the reptile pairings and can also plan for specific outcomes.  The best way to learn is to read about basic genetics and to then learn about the genetic possibilities for the gecko species that most interests the breeder.  This article will provide some very basic information to get the beginner started and will illustrate how the genetics are expressed through a real-life example:  a pair of leopard geckos I am breeding and the first 6 offspring they have produced.
[ad#sponsor]
Basic Genetic Terms
All vertebrates that reproduce through the union of two parents receive genetic material (called "genes" or "alleles") from each parent.  Consequently, each creature has a pair of alleles for many of its hereditary traits, one from each parent.  Genetics is the study of how the pairs of traits interact, are expressed and are transmitted.  Speaking specifically about leopard geckos (though this is true of all vertebrates), for each trait, such as pattern, color, size and body proportion, a gecko's pair of alleles will either be 2 of the same or 2 different ones.  When the gecko has 2 of the same allele, it is considered to be "homozygous" for that trait; if the alleles for the trait are different from each other, the gecko is considered to be "heterozygous" for that trait.  So how do you know what the leopard gecko will look like?  Here's the key:
Dominant:  Most traits are either/or possibilities. Some traits always prevail over others. A "dominant" trait is the one that prevails.  For example, the trait that produces black coloring in leopard geckos is dominant over the trait that fails to produce black coloring (known as "albino" in leopard gecko genetics).  A gecko that received the black coloring (normal) trait from one parent and an albino trait from the other parent will always show the black coloring and will never look albino, even though it has an allele for albinism. A gecko that has 1 dominant allele (with the other being recessive) will not look any different from a gecko that has 2 dominant alleles for a trait.
Recessive: The opposite of "dominant" is "recessive".  This is a trait which, when paired with its dominant counterpart, will never show up visually on the gecko.  In the example above, the albino trait is recessive and, unless the gecko has 2 alleles for albinism, it will never show up visually in the gecko although the gecko does possess the genes for albinism.
Co-dominant:  Sometimes it will make a difference whether the gecko has 1 or 2 dominant alleles for a trait.  Usually the 2-copy-allele will be referred to as the "super" form of the single copy allele.  The most common example of this in leopard geckos is the "snow" trait where the gecko, at hatching, has only black and white coloring (as opposed to the black and yellow coloring of the non-snow gecko).  By contrast, when the gecko has 2 copies of the "snow" allele, it hatches silver or charcoal colored, with solid black eyes, and matures to a white gecko with black spots (in contrast to the single copy snow allele where the gecko frequently yellows as it ages).  A gecko that has 1 copy of the co-dominant allele ("snow" for example) and 1 copy of a regular dominant allele (normal coloring) will always express the co-dominant trait.
Line bred or Polygenetic:  Some traits are more complicated and are likely expressed as a result of more than one pair of alleles.  In these cases, breeders have the best results by pairing geckos that are closest to the ideal of what they are trying to produce.
Heterozygous: As mentioned above, this refers to a pair of differing alleles.  It becomes important to breeders because the unexpressed allele can be passed on, giving the offspring the chance to end up with 2 recessive alleles and to express the recessive trait.
Getting Practical with Leopard Geckos
All this theory lays the groundwork for the actual leopard gecko pair I will be talking about.  These geckos possess  the following genetic traits: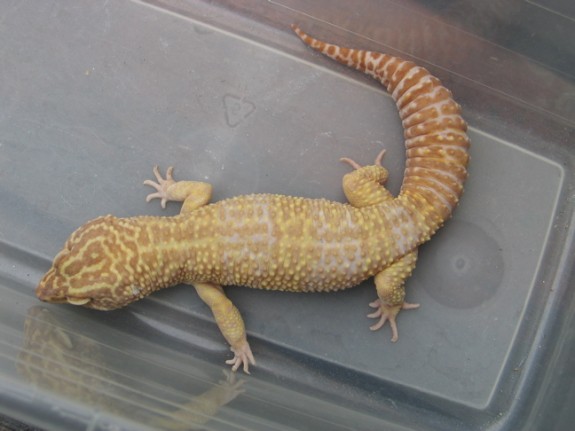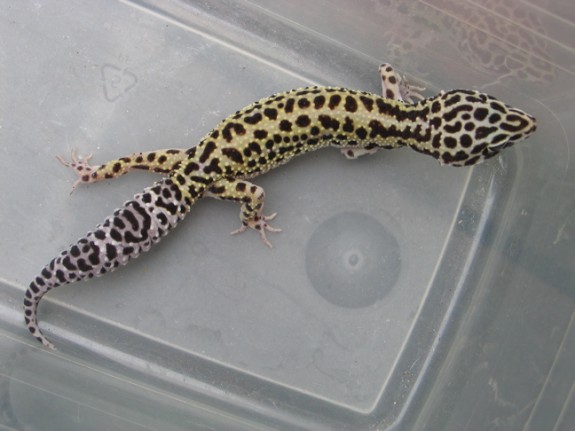 Albino: This is a recessive trait. The father, Eragon, is an albino gecko because he possesses two alleles for albinism.  The mother, Zora, who does not look like an albino, possesses 1 allele for albinism and 1 for "normal" coloring which is dominant.
Snow: This is a co-dominant trait.  Zora has 1 allele for the "snow" trait.  Since Eragon has no snow alleles, none of their offspring can end up with 2 snow alleles so none will express a "supersnow" form.
Stripe/jungle: In leopard geckos, this refers to a range from a broken pattern of the horizontal bands ("jungle") to a vertical, head to tail pattern ("striped").  It is still unclear whether this trait is dominant/recessive or polygenetic, or whether different striped lines fall into different categories.
Eragon and Zora's Offspring
At the time this article was planned, 6 of Zora's eggs had hatched and are pictured as a group below: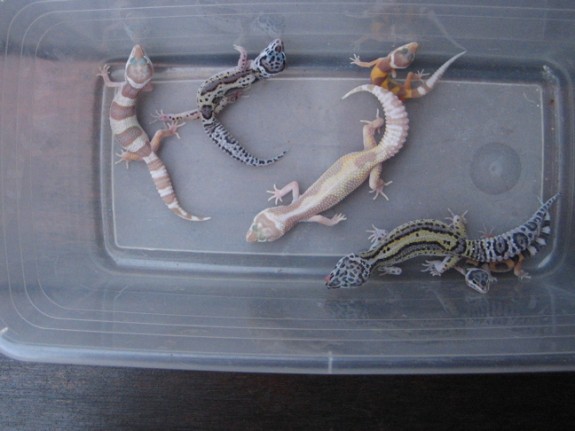 The first hatchling expressed all 3 of the parents' possible non-"normal" traits: albino, stripe and snow.  She has head to tail striping, no black coloring, and the white and beige coloring of a snow albino. This gecko is "homozygous" for albino and has 1 snow gene.  She will likely produce a preponderance of striped offspring, especially if she is paired with a striped mate.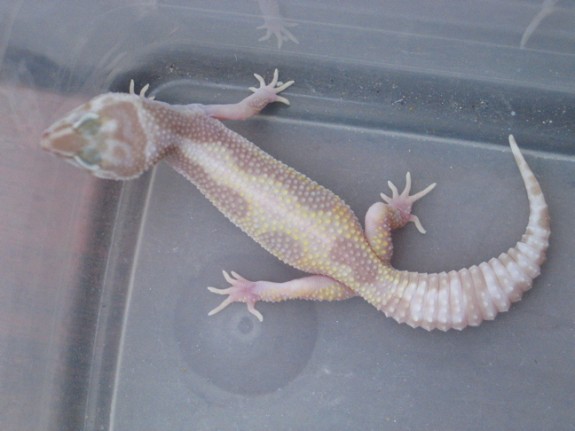 Two of the hatchlings have inherited the same 2 traits from the parents: they are snow and striped/jungle.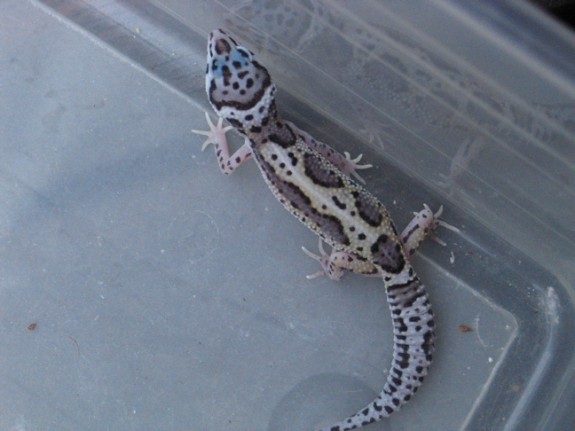 Two other hatchlings have also each inherited 2 traits, but different pairs of traits: one is albino and snow (but not striped) and one is albino and striped (but not snow).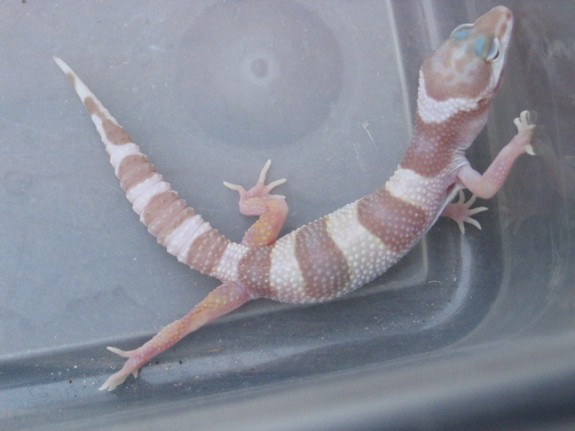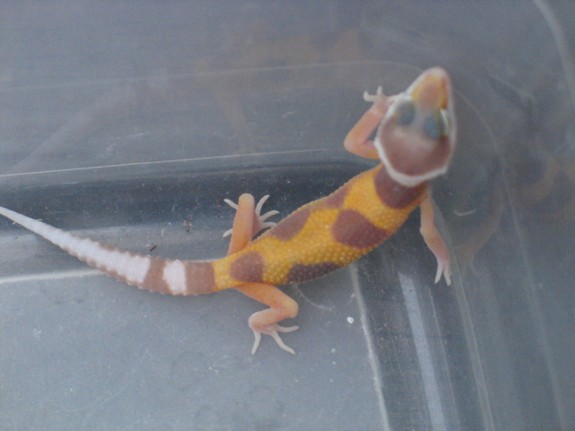 One hatchling has inherited none of the recessive/codominant traits, though it does have some broken bands on the body (but not the tail).  This one is neither a snow nor an albino and doesn't display broken bands on both the body and tail so it's not considered to be a stripe or jungle.  This is a good example of  a gecko that looks nothing like either parent but has primarily inherited the non-expressed traits (except the father's banding).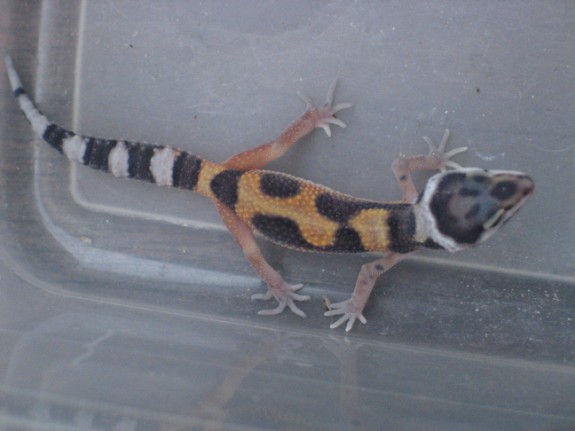 I hope this pictorial genetics lesson has helped to put a "face" on the more academic explanations.  In order to test your knowledge, see if you can answer this question: What other combinations, which haven't hatched yet, could result from this pairing?
Did you pass the quiz?
[ad#sponsor]