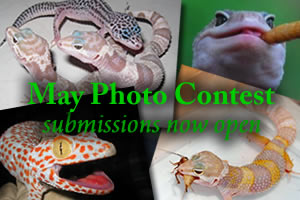 May Photo Contest Submissions
It's time for Gecko Time's third photo contest! This month the photo contest is sponsored by Reptile Direct.
Dates
Photo submissions will be open from April 29th till May 6th. Photos will be posted for community voting on May 13th.
The Winner will Receive
The photo with the most votes will will a $50 gift certificate to Reptile Direct! Reptile Direct is a reptile supply store online. Be sure to check it out for all your reptile supply needs.
Important Details Before Submitting
Please do not send photos larger than 1500×1500 pixels and no smaller than 700x700pixels.
Please subscribe to the RSS notifications in the sidebar to get notification right away when the photo contest goes live. This is in the sidebar, and it is easy to submit your email address for updates.
Please do not submit photos you've previously entered in contests and do not submit photos you did not take.
Update: Submissions are now closed.
MatthewVisit Website
I've been keeping odd pets since I was 14, keeping and breeding a variety of species from viper geckos to poison dart frogs. Now living in Georgia, working in online advertising.
For the past several years I've been breeding superworms for all my geckos. It's a fairly simple process and with some time and patience you can raise your own feeders.

We had the opportunity to interview Kevin of New England Reptile Distributors, asking him about the amazing Tokay Gecko morphs they are working with. Here is what Kevin had to say.

Breeding leopard geckos is relatively easy and rewarding. There are so many exciting images on the internet of gorgeous and unique animals that many of us get bitten by the breeding bug.